Voice Being. Awareness through voice - a course with Shai Dayan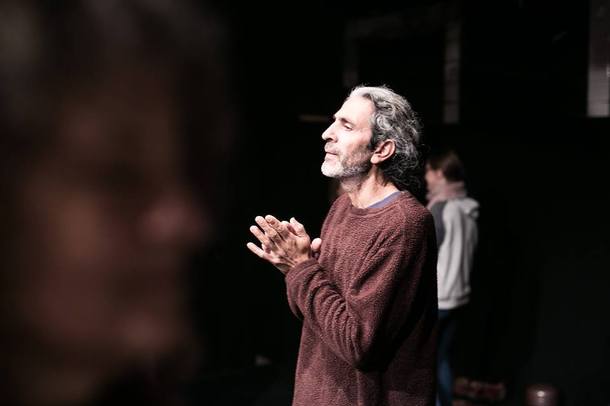 After few shorter workshops SHAI DAYAN, great musician and wonderful voice therapeutist, is coming back to Poland to lead 4 sessions' course: Voice Being. Awareness through voice - dedicated to focused process group work based on his method.

/below you can find info about SHAI and his method!/

Schedule of four sessions:
8-9 April
6-7 May
10-11 June
5-6 August

Saturdays - 14 - 21.30 / Sundays 10.30 - 19

The intention of the course is to study the physical, the mental, the energetical and the spiritual aspect of 'I' using Voice Wisdom method in a safe space.
The same group meets Shai 4 times to explore the wisdom of voice, music, improvisation and body consciousness work.
Every participant gets one private lesson with Shai during the course, we set it personally.

The course is open for everyone who is curious how to understand his or her personality more with the help of sounds, movements, breath and music and would like to spend more time in a space with no personality. Also for each one who work in Art (actors, musicians, dancers) or Healing field (arttherapy, yoga, massage) to open an insperative space in himself more easily and to be more familiar with it. To be surprised that the creativity just coming without any effort.

Place: Krakow, Kontakt.Przestrzen, Szpitalna 40

Cost: 385 euro, that includes 4 sessions and a private lesson. Payment is possible in 2 instalments.

Sign up, information: Mateusz Flak, mantreusz@gmail.com

SHAI DAYAN is a multi instrumental improvisation artist. Composes music for dance projects and films. Studied philosophy and meditation in India for 5 years.
In the last 15 years explores the connection between music and freedom, and their use as tools to unfold our true nature. Teaching improvisation and self inquiry workshops in Israel and Europe, using music, voice and movement as instruments for becoming aware of our true nature.
Participated in rock, jazz, world music and street theater ensembles in New York, Australia, Austria, Germany, Spain, India, Norway, Hungary and Israel. Composes music for independent film makers as well as 'National Geographic' and dance companies.

his music:
https://shaidayan.bandcamp.com/
https://www.youtube.com/watch?v=4V4zFOHturI

***

about Voice Being method:

Becoming aware of our true nature is our highest goal. Since ancient times sound and voice have been used for this purpose. At present this knowledge is introduced anew.
The voice is usually regarded as a tool for self expression.. A good question would be ,what do we mean by 'self'? There are varied dimensionsto the idea of self. From the personal self, to the universal self.
Study of the personal self will lead us to the knowledge of our personality. Study of the universal self may lead us to knowledge of the universe.The voice is primarily made up of two elements, breath and sound.
Breath is universal, it is the very life. Sound is unique, and so, particular.
The voice is a way for life to express itself in a unique way.

It is one thing to hear our voice as a personal expression, it is quite another to hear our voice as the voice of the self.
When we become aware of this then any sound we utter will express the potency and power of it's own source. By that I mean that if we allow this awareness to unfold then life will use our voice to flow freely through us.
That is it's nature, that is our nature.
A free flow, a free being.

In this work we need to know that whatever is revealed in this process of clearing and opening our system, that is fine.
It is not necessarily fun, or easy, but needs to be done.
Fun comes when freedom is unfolded.

The Voice Being program has been developed during the past fifteen years.
Shai's profound study of philosophy, meditation, music, voice and sound is the fundamental basis and background that permeates this work.
It is through his own direct experience, understanding and ongoing study that he offers to you the great love and knowledge of the power of sound and voice.