Radość (Joy) - Marta Wakuła-Mac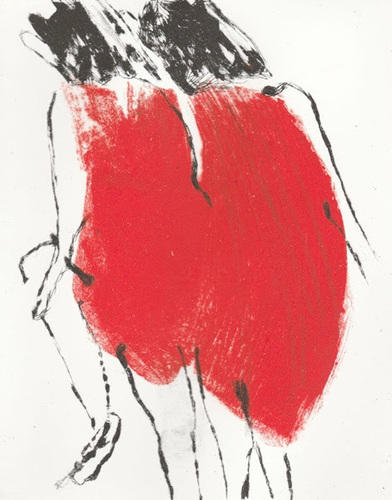 Storm senses surprising new series: a dancer and styled consecutive numbers. There is once again a return to the female form, but clad mostly in red dresses. The visibility of the linocut technique favors additional expression, leaving traces of conducting chisel and inadvertently bringing an association with the graphics of the German Expressionists. The dresses of the dancers are completely flat in color, yet form rotating spots. "Viewing this series, it gives you the impression of continuous motion, dancing. " (Teresa B. Frodyma, part of a larger text about the artist).
Marta Wakuła-Mac was born in 1979 in Nisku. She graduated from the Art Institute of Pedagogical University of Cracow (1998-2003). Diploma in linocut workshop conducted by prof.Jerzego Jędrysiak. Member of the Graphic Studio Dublin (since 2004.) And the International Print Triennial Society in Krakow (since 2015). She currently works mainly in the technique of linocut and intaglio and is also involved in book illustration. The artist has to her credit several individual exhibitions in Poland and Ireland. She has participated in numerous group exhibitions in Poland, Ireland, Germany, Serbia, Sweden. Her works are in the collection of the Archdiocese Museum in Poznan, the Civic Museum of Cremona, Italy, National Gallery of Ireland, Dublin, and national and private collections in the wholeworld. Awarded the Arts Council Travel and Training Award (2007). The winner of the scholarship Culture Ireland (2007) She is currently leading the art studio in Nowa Huta Cultural Centre.