Where To Go For a Swim in Krakow?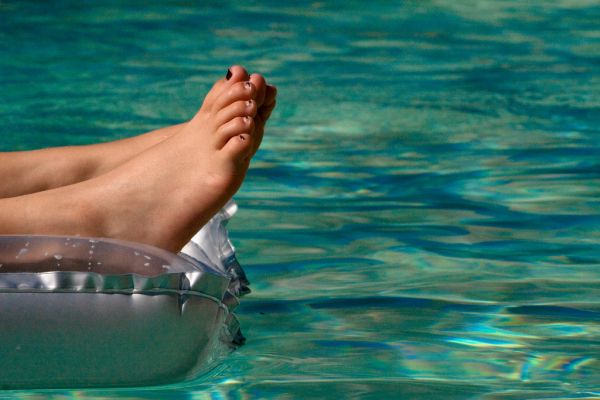 Summer is not all about exotic trips, in fact, you don't need to spend hours in a car to get to the place that will give you relief from the blistering heat. In Kraków and its surroundings there are many places to swim, both natural and artificial ones. Among them, Bagry, Kryspinów, Przylasek Rusiecki the more popular ones. Let's not fail to mention that all of them are controlled by the Sanitary and Epidemiological Station, so no worries, it's an absolutely safe entertainment during summer. However, when it comes to Wisła River and the reservoir in Zakrzówek, swimming is absolutely prohibited in these two, so don't bother. And now, without much ado, we present to you Local Life Krakow's ranking of top places to swim and sunbathe.
Bagry
It's one of the biggest lakes within the area of Kraków, located in Płaszów, a bit to the east of the centre. During the summer it offers a life-guarded swimming area at your disposal. If you're craving for active entertainment, rent a kayak, pedalo or try wakeboarding and water skiing. If not, just sunbath on the one of the piers. The reservoir is no more than 6 m deep and has three unguarded beaches. Moreover, two restaurants operate by the Bagry and, during summer season, competitions and other events are organized on a daily basis. By the Bagry operate a few nautical clubs and the lake is also at the disposal of the members of Polish Angling Association. How to get there? Tram stops: Saska, Mały Płaszów, Dworcowa, Dworzec Płaszów. Admission is free!
Kryspinów
It's an extremely popular place, visited by over half million people during the summer. The number of visitors to Kryspinów reaches up to 30 thousand every weekend. The lake is approx. 12 km off Kraków. The area of Kryspinów covers 64 ha, of which over half is the reservoir, and the rest is covered by a forest, walking paths and bike lanes. Kryspinów offers a wide range of entertainment including basketball and volleyball pitches, a rope park and playground for children, a water slide and even a bouncy castle. How to get there? From the bus stop Salwator, hop on one of the MPK buses, private minivans or PKS coaches heading to Oświęcim. Admission: free for children aged up to 6 years, school children aged 7-15: 6 PLN, adults: 12 PLN, car parking fee: 10 PLN. Also available is a prepaid seasonal ticket, including entrance to the attractions, at 120 PLN.
Przylasek Rusiecki
Maybe not as popular as Kryspinów, but it's worth to appreciate its charm before it will transform into something huge and spectacular, as it has already been announced. Przylasek Rusiecki is a complex of about a dozen of smaller lakes. By the one of them is a beach, a guarded swimming area and water sports rental. The rest of them serve as a fishing area, leased and managed by the Polish Angling Association which is by the way in charge the whole complex. How to get there? Przylasek Rusiecki is situated on the eastern tip of Krakow, on the road leading to Nowe Brzesko. You need to the bus stop Pleszów and change take bus line 146. Admission? Free!
Zalew Nowohucki
The pride of the Polish People's Republic period, situated in Nowa Huta area Bieńczyce. When it was first opened, the locals quickly took to it, but within years the lake was nearly totally forgotten. Not too long ago, it was restored and now enjoys popularity again. With its picturesque paths with benches, pitches for the more active, tennis courts and the big sports complex comprising swimming pools and indoor pitches, everyone can find something of their liking. Anglers will be delighted with Zalew Nowohucki, because the lake swarms of fish and a fishing equipment rental is at hand. By contrast, bird lovers have a great opportunity to admire rare species and their breeding grounds. Caution: the beach is not guarded. How to get there? The nearest bus stop is Bulwarowa. Admission: free!
Centre of Sport and Recreation "Kolna"
The Olympic kayak track is Kolna's biggest pride, and the centre hosts the biggest kayak and canoe events in the region. It's not only available for professionals, all rafting enthusiasts are welcome. Water sports rental is at hand. To the rollerbladers and bike freaks' delight, Kolna offers also a long bike lane. On the premises of Kolna you can also play beach volleyball, badminton and football as well. Apart from the swimming pool, the centre offers a gym, a sports hall and spa.
Balaton in Trzebinia
The lake was created in the area which former was serving as a quarry. It's an often visited swimming spot, however, partly for the use of the anglers signed up at the Polish Angling Association. The lake is approx. 9 m deep and the waterside rocks are a real treat for climbing enthusiasts. In Trzebinia there is one more bath, Chechło, which covers about 54 ha. It's a paradise for water sports lovers, as two recreation centres with water sports rental and accommodation are at hand.
Skowronek Lake in Alwernia
Another nice swimming spot with attractions like tennis court, volleyball and football pitches, campsite and a cafe. Fishing is also available. Admission: 5 PLN, parking fee: 5 PLN .
Lake in Łapanów
Sports and Recreation Centre Zalew comprises three guarded pools of different depths. There is an artificial sand beach, a waterslide, kayak and pedalo rental, pitches, tennis court, athletics track as well as plenty of attractions for children. Anglers are welcome here!
Park Wodny Stawy in Stary Sącz
Park Wodny Stawy is opened from 13 June until the end of September from 10 am until 8 pm. Apart from the guarded swimming pool there is also a water equipment rental, volleyball pitch and playground. Admission: in the years 2015 – 18 the attraction will be available for free thanks to an EU funding programme.
Aquaparks and swimming pools
Aqua Park Kraków
The facility offers numerous water attractions, as it is the biggest indoor aqua park in Poland and one of the biggest facilities of its kind in Europe. It comprises a recreational pool, indoor water slides, a paddling pool for children, sauna and even a water bar! Try out "Salamander" and "Tornado" slides or the swimming pool with a wave. Aqua park has a wide range of saunas with different qualities and temperatures to choose from. There is no better place for water frenzy in Krakow. Open from 8 am until 10 pm. Admission: from 18 to 24 PLN.
Aqua Park in Zakopane
It's surely the most entertaining object at the foot of the Tatras comprising four swimming pools: recreational with hydro massage, paddling pool for children, one with swimming track and one outdoor thermal pool. Besides, it offers six Jacuzzi bath, five water slides and a wide variety of saunas. Aqua Park Zakopane provides relaxing with the view of Mt. Giewont! Admission: prices start from 18 PLN per hour, all-day ticket costs 60 PLN.
Outdoor swimming pool in Andrychów
About 70 km from Kraków, you can spend a great day splashing in recreational pool or organize a swimming competition. The swimming pool in Andrychów offers a wide range of water attractions including hydro massages and water slides. It's a perfect place to spend a hot day, because after the water frenzy you can dine in the restaurant or just stare at the water while sitting on a view terrace. Admission: 9 PLN for a discount ticket at weekdays and 12 PLN at weekends; regular tickets 12 and 16 PLN respectively. Open from 9 am to 8 pm during the summer season.
Outdoor swimming park in Bukowina
In Bukowina close to Olkusz there is a nice place with recreational and paddling pools. Perfect for a family day, because it's equipped with various attractions for children and comprises also two sand beaches, artificial islands, five-track water slide and two beach volleyball pitches. Open from 9am until 7pm. Admission: regular ticket 10 PLN, discount 5 PLN.
Comments
hELLO, WE, WIFE AND I WILL BE IN Krakow JULY 22-25 AND WOULD LIKE TO SWIM 800 METORS OR SO (ONE DAY) CAN YOU HELP ME FIND A POOL WHERE WE CAN PAY A SMALL FEE TO SWIM. THANKS .jIM
Reply
Hi Jim, there are several swimming pools (known as "basen" in Polish) in which you can pay a small fee to swim. I would recommend "Korona" in the very centre of Podgorze district. It's a beautiful historical building and my partner swims laps there several times a week.
Reply