The Best Ice Cream Places in Krakow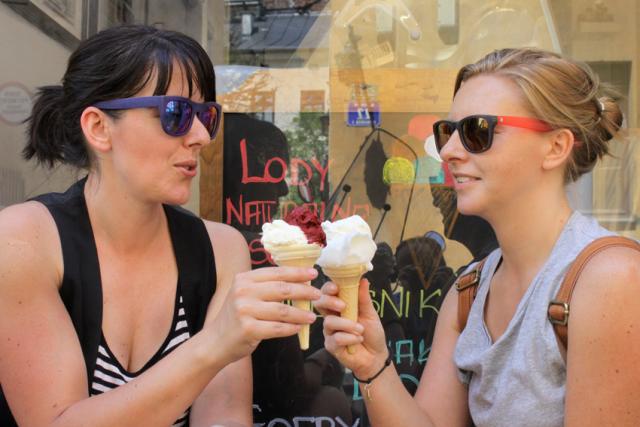 In the summertime, when the weather is hot...
...or not - nevermind! Hanging around Krakow with a delicious treat in your hand makes one's visit to the city of King Krak even more spectacular. Krakow boasts many cafes and pastry shops; some of them have been here for ages (literary), and some bring in a breath of new and foreign approach to desserts. To help you navigate through a long list of 'lody' /ice-cream/ places in Krakow, we have created our very own, subjective list of the best ice-cream parlours in the city. Enjoy!
Słodki Wentzl
Rynek 19/Galeria Krakowska (level -1)
Open every day: 10-22/Mon - Sat 9-22, Sun: 10-21
This cafe-and-confectionery joint has got a long tradition: in the past the facility at the Market Square hosted many prominent 19th and 20th century personalities. Today the interior is not so much breathtaking, rather modern. The desserts are made of natural ingredients, and attract with an impressive variety of flavours and combinations.
Donizetti
św. Marka 23
Open every day: 10:00-21:30
A highly recommended Italian ice-cream parlour, in a non-offensive interior. Serves a vast variety of flavours, made only of fresh ingredients. Good location if you want to escape the tourist crowd. Donizetti also serves ice-cream sandwiches.
Czarodziej
Karmelicka 15
Open every day: 9:00-19:30
Decades of experience in confectionery-making proves the quality of Czarodziej's ice cream, cakes and desserts, though the interior of this confectionery is somewhat on the 1970's Polish People's Republic side. Lip-smacking treats, anyway.
Katane
Sławkowska 19
An ice-cream parlour run by a duo of Sicilians, with hand made, flavoursome treats. Don't get discouraged by the long queue outside, it's just a commendation. Occassionally, the place serves Italian pastry, but the sublime espresso is available all year round.
Lody na Starowiślnej/Ice-cream At Starowiślna St.
Starowiślna 83
No matter what the place is called, every decent resident of Krakow knows the address. This place is Krakow's classic, with generations of satisfied customers to testify to the quality. There are just a few flavours in offer, vanilla, strawberry, walnut&raisin, cocoa and blueberry, as good as decades ago. Just look out for a big, snaking queue, and you've found the place.
Comments
There is a new good place on Warschauera St. - Coca Sicilian Ice Cream, great cinnamon ice cream!
Reply