Krakow's Kantor
Though Polish artist, writer, actor, stage designer, and theatre director Tadeusz Kantor was not born in Krakow, he developed ties to the city, and the city to him. Throughout his life until his death in Krakow in 1990, Kantor was a part of the Cracovian avant-garde art scene. Today, the National Museum of Krakow has a whole sizeable showroom dedicated to Kantor, as part of the 20th Century Polish Art exhibit.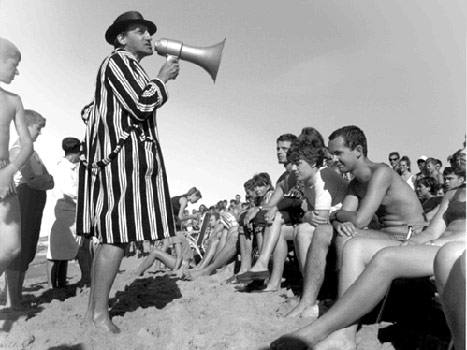 Above: "Tadeusz Kantor during the Panoramic Sea Happening", 1967, photo: Józef Piątkowski
Born in 1915 in Wielopole Skrzynskie in Galicia (then part of the Austro-Hungarian Empire), Kantor went on to study in Krakow at the Academy of Fine Arts, graduating in 1939. While Krakow was under Nazi control during World War II, Kantor taught at the underground Academy and also founded the Independent Theatre. After the war, Kantor because well-known for his avant garde and often experimental stage design, mostly working for the Helena Modrzejewska Old Theatre in Krakow. In 1948, he founded the Krakow Group, though with the approach of government-propagated Socialist Realism in art, Kantor, like many other talented artists of the time, ceased showing his art during the era. Many of his paintings created between 1949 and 1955 were finally exhibited in 1955.
In 1955 Kantor also created the Cricot 2 Theatre, a true vessel for his creative energies. Kantor's theatre was characteristic in its silent film-like scenery, use of emballage (wrapping actors or set pieces in materials like black bags or netting), as well as the frequent use of mannequins alongside real actors. Occasionally, Kantor performed in his own plays as well. The theatre often performed plays by Stanislaw Ignacy Witkiewicz ('Witkacy'), another famous Polish artist and writer.

Having reached the limits of all traditional concepts of theatre, in 1965 Kantor decided to become involved with "happenings," a concept invented by American artists in the late 1950s and early 60s that involved actors staging a performance, often involving the audience and with room for improvisation, though a basic idea of the theme is set from the beginning. Kantor staged several happenings at the time with his theatre group, but in the 70s he came back to the theatre proper, though absorbing elements of happenings into the art form.
In 1975, Kantor developed a form of theatre he dubbed the "Theatre of Death." During this time, he staged his best known productions, such as Dead Class (1975), Wielopole, Wielopole (1980), Let the Artists Vanish (1985), I Shall Never Return Here (1988), and Today is my Birthday, published posthumously in 1991. Kantor's "Theatre of Death" focused on themes of death, memory, and transcendence, often focusing on the lowest of humanity's desires. Throughout his life, Kantor's theatre and art were seen as avant-garde or neo-avant-garde, earning him the reputation of being a kind of Andy Warhol for Poland. His impact on Polish art is still felt today, and since the 1990s his works have become well known as far away as the United States, where presentations at Ellen Stewart's La MaMa Experimental Theater Club introduced Kantor to a new audience.
Also, in 1980 Kantor founded Cricoteka, an instituton called to be a museum, an archive, a gallery, and a research centre, to preserve his unique collection and works. Being a 'Kantor hub', Cricoteka organizes exhibitions, workshops and lectures relating to the artist and his work.
Currently seated in Kanonicza, Cricoteka is about to gain a new home in 2014, more adequate to Kantor's idea of a "living artictic event". A new venue in Podgorze district will enable to properly present Kantor and his art in a pantheon of world contemporary art.
Comments