Feel the Green!
Cracow Life has twice spotted hedgehogs pottering around the Old Town. Whether these spiky characters were sightseeing or whether they actually live in the centre we're still not sure. But Cracow does indeed boast some forty green spaces that can be designated parks. They come in all shapes and sizes, from the epic Blonia Common - venue of Pope John Paul II's historic speeches - to the belt-like Planty Gardens, which form a ravishing ring around the Old Town. These parks are an integral part of life in the city, and well worth exploring if Mother Nature is in a mellow mood.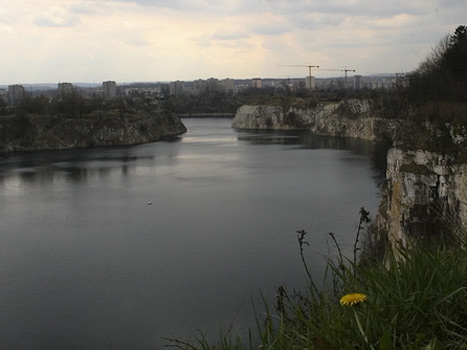 The Planty Gardens
Unless you approach the Old Town through some secret subterranean passages (which do in fact exist), the one park that you can't fail to miss is the Planty. This much-loved stretch of greenery occupies the land that once bore the medieval defensive walls. Now resplendent after a long-running programme of renovation, the Planty is a genteel throwback to nineteenth century Galicia. Elegant old lamps and benches endure, and popular cafes such as Bunkier Sztuki provide a window onto the changing pattern of the seasons.
Park Jordana
Henryk Jordan (1842-1907) was a distinguished doctor and philanthropist whose big break came when he helped a Habsburg Princess give birth after she went into labour passing through Cracow. He made such a good impression that he became the doctor of choice for subsequent imperial births. A promoter of healthy, outdoor pursuits, Jordan's crowning achievement was the foundation of the expansive, eponymous park. Situated to the west of the Old Town, beyond the National Museum, it's a pretty spot with many nooks and crannies. Busts of great Poles line the paths, and a pond dominates the western stretch. Squirrels and young lovers are amongst the regulars.
Blonia Common
This vast stretch of land lies adjacent to Dr Jordan's gem. But unlike it's neighbour, there are no frilly flowerbeds here. It's a 48 hectare expanse of unbroken meadow. Historically, parts of this land were 'common' ground that could be used by farmers to graze their cattle. As late as the 1970s, folk from outlying districts brandished royal privileges when the Communist Party tried to outlaw mooing mopers. On a different note, Cracow's maiden football match took place at Blonia in 1906, whilst in 1979, Pope John Paul II made the first of his legendary addresses on the common (his funeral was also observed here in 2004). These days Blonia is a popular place for joggers and locals out walking their dogs. Cows are a rare sight nowadays, but bovine visitors maintain the right to munch the grass. A fine view over the steeples of Cracow can be enjoyed, and to the west, the memorial mound of Kosciuszko dominates the horizon.
Park Bednarski
This one's a little further afield in Podgorze, but it's a beguiling spot if you're in the area. Park Bednarski was fashioned in 1896 from the remains of a lime quarry, hence the dramatic backdrop. It's especially beautiful in Autumn, and it's well worth passing through if you're on your way to the burial mound of Prince Krak.
Park Skaly Twardowskiego
Even further out, the intrepid might try the Park of Twardowski's Cliffs, named after a sorcerer who cut a deal there with the devil many centuries ago. We should warn that the cliffs remain devilishly dangerous, so don't run around with your eyes closed. Brave souls sometimes swim in the lake, but again, resist the temptation to do daredevil dives - accidents are depressingly common.
Las Wolski
The so-called Wolski woods were once a favourite Lenin, who hid out in Cracow before World War I as Galicia was safer than Tsarist Russia. Nowadays, the woods are a favourite with Cravovians on a Sunday stroll. There's even a zoo hidden away in the interior. You can walk to Las Wolski from the Kosciuszko Mound, and cyclists are blessed with a path runs the length of the valley.

GARDENS
Whilst all of the above are accessible free of charge, Cracow also has an array of gardens that will intrigue green-fingered guests. Some of the best of these are out of bounds - unless you join a holy order. Others can be entered with a small fee. First up are the Botanical Gardens, although spoilsports that we are, Cracow Life thinks that they're a tad over-rated. A more modest yet attractive garden can also be enjoyed at the Mehoffer Museum, the former home of the celebrated painter.
However, if you have a penchant for the melancholic, there are other places to explore. Free of charge are the city's historic cemeteries, which in many respects are like gardens in themselves. Rakowicki and Salwator are amongst the most beautiful in Poland, plumed with mature trees and ornate mausolea.
Comments