First Step...
The National Museum has put on some sensational shows over the last two years, but if there's a string that's been missing from the bow, it's international contemporary art. Until now, we should add. This summer, the National is showcasing a vivid stash of modern marvels. Works by some of the most talked about names in today's art world can be enjoyed, which is why art aficionados from across Poland have been making the pilgrimage to Krakow.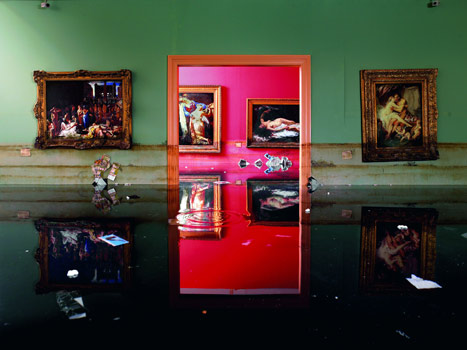 Above: "Museum" by David LaChapelle (2007)
The National's stroke of good fortune comes thanks to Rafael Jablonka, one of the most dynamic Polish collectors at large on the international scene. The owner of the eponymous Jablonka Galerie in Cologne, he's lent dozens of pieces to the show. The collection focuses on movers and shakers of the last 25 years, beginning with Andy Warhol and running through stars such as David LaChapelle, Miquel Barcelo, Eric Fischl and Philip Taafe. America and Europe are best represented, but controversial Japanese photographer Nobuyoshi Araki also gets a look-in.
Is Andy Warhol the most overrated artist of the last few decades? And is Mike Kelley's Bottle simply a glorified piece of nightclub scenery? And what about Nobuyoshi Araki's photographic chronicle? Has he crossed a line in exploiting his own misfortune, or is his series a touching evocation of love and loss? Plenty of questions are raised from the exhibits at "First Step", a healthy sign in any show. Thankfully, wit is not absent, not least in the imagery of David LaChapelle, whose lurid Deluge offers a 21st century take on Michelangelo's The Last Judgement. Naked philosophers, dogs surfing on Burger King signs - it's all there.
The full title of the show is "First Step Towards a Collection of Contemporary Art." And the good news is that all signs are pointing towards a more permanent set-up with Rafael Jablonka. The collector has already provided an extended loan for the show, and art lovers will be able to enjoy the exhibition until the autumn of 2009. Fingers crossed, this won't be just a flash in the pan for the National Museum's contemporary campaign.
Comments