Tenements of Krakow: Medical Society House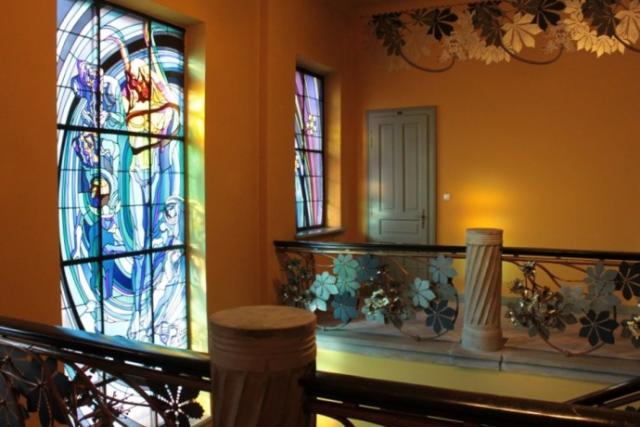 Medical Association House in Radziwiłłowska Street in Kraków is definitely a magical and mysterious place, which reveals new secrets with every visit. It's a three-floor, freestanding tenement designed by Józef Sowiński and built in 1905 by Władysław Kaczmarski. The facade of the building is modernist and quite simple, but the tenement conceals the masterpiece of interior design by Stanisław Wyspiański, the most prominent and multi-faceted representative of the Young Poland (Polish name for the Art Nouveau style).
Quite surprisingly, in creating this unbelievable interior, Wyspiański's starting point was the investors' demands. The building was to gather elites and to serve as a local club for cultural, academic and social purposes. To put it briefly, it had to be impressive. Thus, Wyspiański decided to cover entire rooms, including ceilings, in vivid colours. He subordinated the whole project to nature and to the symbolic criteria because the life sciences were the main object of the investors' interest.
As a result, each room has a different decorative pattern and is filled with symbols. Starting from the entrance, the staircase is mustard yellow. This colour is not accidental, it evokes associations with the Sun and, what comes with that, with the biggest discovery of life sciences which was the heliocentric system presented by Nicolaus Copernicus, an astronomer of Polish origin. The staircase is enlivened by the impressive coppery balustrade with three-dimensional chestnut inflorescences and leaves. This theme is also repeated as friezes on the walls.
Stairs lead to the upper floor, where the first thing that catches the eye is a wall with three stained glass windows with a motif of Apollo, the healer and protector god from Greek mythology. The assembly hall is huge and all covered in Pompeii red. The simple, dark-wood furniture reveals a glimpse of the hall's grandeur. Even chair armrests have a special function. They provide no support for the arms and it's intentional, because such chairs were supposed to help the audience listen to the speaker intently, and according to the investor, excessive comfort would make listeners too relaxed and, what follows, not focused. The snowflake-shaped chandeliers in the assembly hall were made from chrome, so that they could reflect the electric light of the light bulbs. This is how Wyspiański wanted to emphasize the miracle of technology, inasmuch Kraków has had electricity since 1904.
One needs to mention here that the Doctors' Association House had the then latest facilities like central heating, ventilation and a phone, what makes it even more worth attention. However, the most marvellous thing about the tenement is that, being a designer and a great mind, Wyspiański left a lot to the imagination and we can interpret each symbol as we see fit.
Comments