Dentists in Krakow
Poland's niche medical market attracts thousands of foreigners every year thanks to its high-quality practices and state-of-the-art treatments. With some of the most highly ranked clinics in the country plus the stunning architecture to go with it, Krakow is one of the best places to refresh your smile.
Why do we have the best dentists in Krakow? The reasons are simple and practical. First of all: price. There are many services in Poland that offer good value for money, and dental care is no exception. It's often even better than in any other respected dental practice in Europe. Secondly: Krakow's popularity with the highest class of dentists - attracting real professionals, it's the home of global dentistry conferences and other dental events.
Krakow is especially popular with dental tourists as the time between treatments is a great excuse to stroll around the city, shop and get a taste of the nightlife. Here, you can turn a dentist appointment into a great vacation experience. It's almost worth losing a tooth for!
---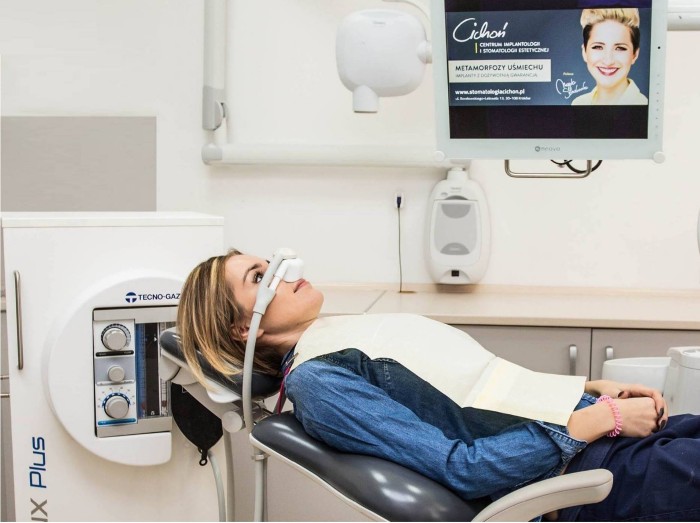 Cichoń
This fabulous Cracovian dentistry has earned its place in our article through true professionalism and care. Their list of specialisations includes dental surgery, implantology, prosthodontics, cosmetic dentistry, orthodontics, endodontics and periodontology. Cichoń Clinic's highly skilled team of dentists use the latest equipment, materials and dental components in their work, as well as broadening their knowledge by taking part in local and international courses. Between them, they have a language repertoire of Polish, English, German, Russian and French.
At the Centre of Implantology and Cosmetic Stomatology Cichoń, you'll be in caring, communicative hands. We really appreciate their professional and human consideration of the dental surgery experience. Given how scary and uncomfortable dental work can be, Chicoń have thought to offer 'Dental SPA relaxation' treatments in order to brighten the experience. Small touches like this are what really make the difference. The clinic offers three comfortably equipped, air-conditioned surgeries, an operating room, a diagnostic room and a spacious, comfortable reception. There is plenty of parking space at the clinic's premises, with a disabled parking spot by the entrance.
Ul. Marcina Borelowskiego-Lelewela 13 // +48 12 294 11 00
Official Website // Facebook
---

Indexmedica
One of the first travel abroad dental practices in Krakow and rated as one of the top 5 in Poland according to Global Clinic Rating, Indexmedica have extensive experience in satisfying even the most demanding clientele from across the globe. With over 10 years under their belt, ISO 9001 certifications and a multilingual (ENG, NOR, Spanish & more) team of friendly and experienced staff, explaining your smile's situation in detail and finding a solution will not be a problem.
Well versed in their trade, not to mention famous for their skill in implantology, veneers and root canal treatments, their focus has always been on creating as smooth and comfortable an experience as possible with no surprises. Professional to the core, they are always careful to provide you with all the information you need and thorough consultation. Indexmedica offers patient-oriented specialists who use cutting-edge, top-end equipment, microscopes, panoramic X-rays, digital 3-D CT scanner and high-performance diamond dental drill bits.
With this clinic, you don't have to worry about the details. They can organise everything for you and even offer specialized treatment + travel packages – arranging your taxis, recovery plan and your choice of accommodation in their 4-star hotels (just book your flight!). If your treatment cost reaches above a certain threshold, you'll even get the hotel stay thrown in for free. Indexmedica specializes in high-quality treatment in a short amount of time, giving you plenty of room to relax enjoy the city, or for busy people to get in and out and back to their lives in the blink of an eye. For those who don't have time to plan in advance and need emergency vacation treatment, your visit will be treated as a priority, so that a lost filling or chipped tooth won't spoil your stay in Krakow.
Ul. Kazimierza Czapińskiego 2 // +48 516 028 533
Official Website // Facebook
---

Scandinavian Clinic
Scandinavia: the lands of breathtaking fjords, Odin, reindeer... and the highest standards of medical hygiene in the world. Upholding the divine dental practices of the Swedish, Danish, Finns & Norwegians, this Polish surgery uses the most cutting edge equipment alongside 'hygge' ideals of comfort, respect, cosiness and a calming atmosphere, even within the dentist office (it's beautiful here). That's because at this clinic they place "equal emphasis on the quality and effects of treatment as well as the comfort and well-being of patients". Because what's the use of getting a perfect smile if you don't want to use it?
The best part is that you don't need to snowshoe your way through a frozen tundra to get here or win the lottery to afford these services (one of the most affordable in KRK for this high standard). In fact, Scandinavian Clinic go out of their way to make sure the whole process of your stay in Krakow is as smooth and relaxing as possible, organizing accommodation, attractions and even preparing a full treatment plan (based on your CAT scans or your own dentists' analysis) before your arrival. From their central, historic Old Town location, you'll have no trouble exploring the ancient beauty of our city or getting to and from your hotel.
This clinic offers full dental services: modern computer tomograph Gendex GXDP-800, panoramic & 3D imaging, teeth reviews, prophylaxis, dental surgery, endodontics, prosthetics, implantology, aesthetic dentistry, radiology and more. This clinic has been authorized by Swiss implant company Thommen Medical. We trust Scandinavian Clinic because we know they only work with the best dentists in the country, such as the famous Dr Adam Balczynski. Their professionally trained, English speaking staff can tackle any issue with their complex ammo of seriously high-tech gear and all from the base of this one destination dentistry (that means no being shuffled around). Who says you can't enjoy a trip to the dentist? We will leave you with their motto, which sums it all up: "Together we find reasons to smile!"
Pl. Szczepański 3 // +48 12 421 89 48
Comments