Bochnia Salt Mine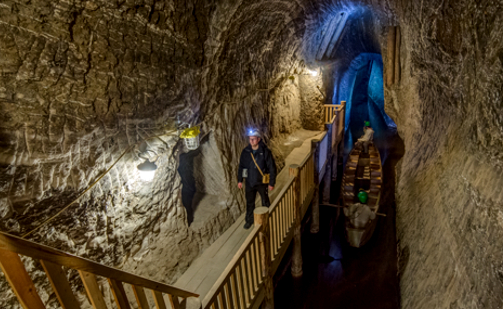 The salt mine in Bochnia was founded in the 13th century, however the history of salt extraction in the area dates back 3500 years ago. Thanks to the mine, in Middle Ages Bochnia was one of the most significant cities in southern Poland.
Today, the salt mine is a great attraction for tourists and after the recent renovation, it presents not only a real marvel but also a modern and interactive spot. The underground route includes a train ride, mysterious multimedia show (not only for children!) and crossing an underground lake by little boat.
Outside the mine is a big and free parking for visitors. The entrance fee varies from 25 to 70 zloty, depending on the route and attractions you choose, including taking a ferry crossing through the underground lake. You can also stay overnight in the mines or organise a party or an educational game for children there. For those who crave for more adventure, there is also a special route, called The Old Mountains Expedition.
Bochnia is a lovely old town (the oldest in Malopolska!) with a charming market square. The city has a lot of monuments and is great to be explored on foot. Apart from the salt mines, we recommend to visit the St. Nicholas church or just take a walk around the town and enjoy the atmosphere.
From Krakow you can get to Bochnia by train or by bus. From the station you can walk to the mine (approx. 1 km) or use public transport in Bochnia, there is also a taxi stop in front of the station.
Comments