Andrzejki // Poland's Annual Fortune Telling Party
Andrzejki (pronounced an-dzey-ki) is the day of St. Andrew, who is the patron saint of Scotland, Greece, and Russia. In Poland, the holiday is celebrated on the night of the 29th through 30th of November. Traditionally, the holiday was only observed by young single girls, though today both young men and women join the party to see their futures - and to drink enough to forget the present at the moment as well!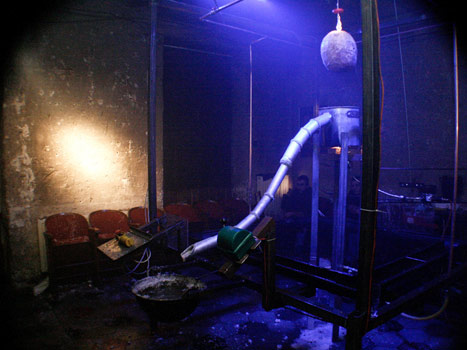 Above: Krakow's Alchemia club always has the most elaborate machine for creating your wax fortune...
During Andrzejki, your fortune is told in the form of wax: hot wax is poured into cold water, often through a key, and the resulting shape is supposed to predict your future - most likely, who you're going to marry! Another popular Andrzejki game involves unmarried young women. Participants line their shoes up in a straight line one after the other starting at the back of a room. After all the shoes are lined up, the person at the end takes their shoe and puts it at the front of the line, and so on, until someone's shoe reaches the door. It's believed that the owner of the first shoe to cross the threshold will be the first one to get married.
But whether you believe in fortune-telling or not, today Andrzejki is mainly about having fun with your friends and enjoying your youth - while you still have it!

Photo Credit: Pawel Loj
Comments