Andromeda Alfa // Bright Shining Star of Hotel Galaxy // Review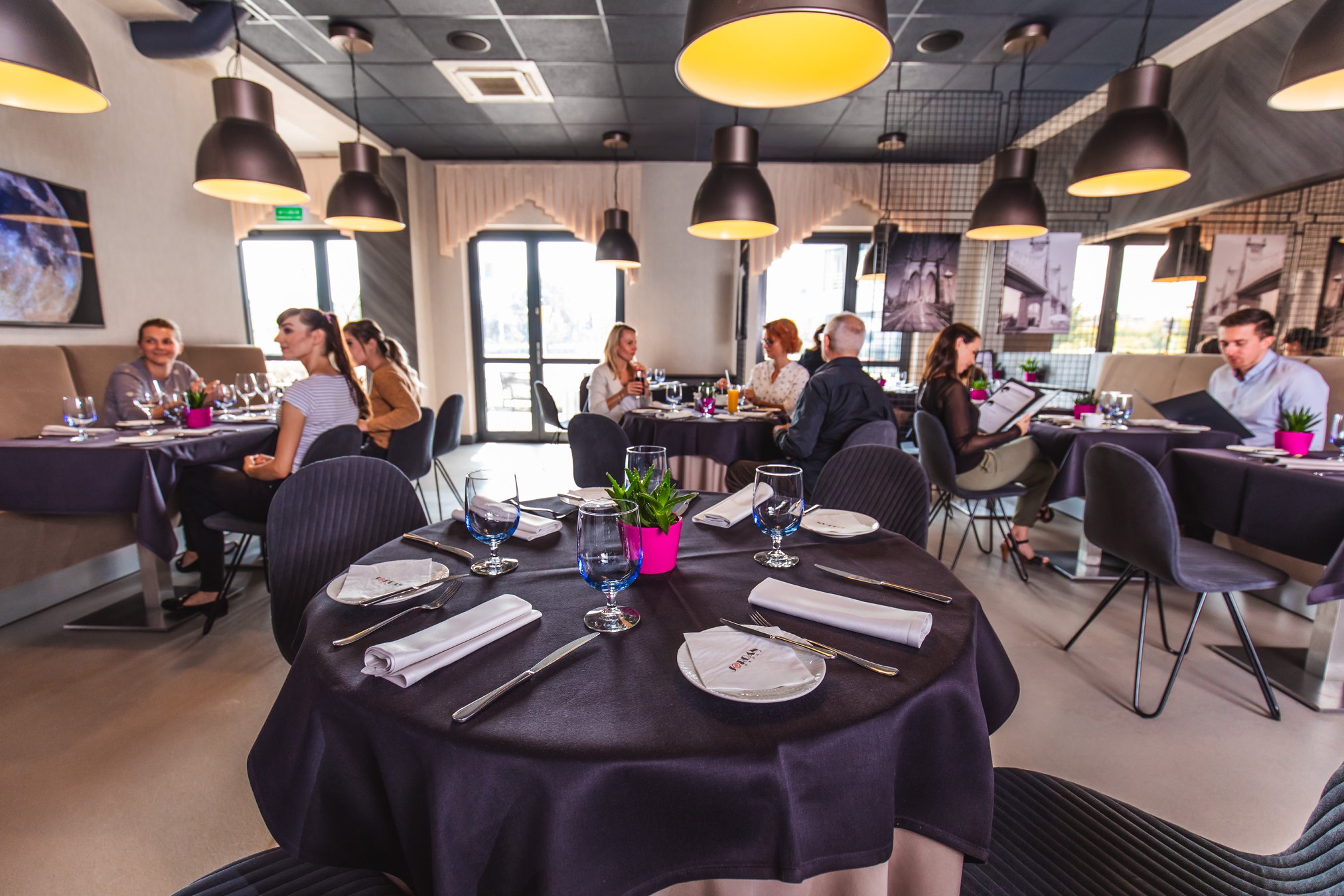 Named after one of the brightest shining stars in our sky, Andromeda Alfa is most definitely the light of Krakow's Hotel Galaxy.
Located along the banks of the picturesque Vistula riverfront, in the laidback residential area of the Kazimierz Jewish District rather than in the more tourist-trodden streets, you'll find this unexpected gastronomic gem. With their team of award-winning chefs, including Piotr Tuźnik, Michal Krolik, Łukasz Wolak & Tomasz Rudko, it's as though Andromeda Alfa is the far point of the Kazimierz culinary constellation: crucial to completing the picture yet reserved for only those in the know.
Classic and distinguished in its dress; tables are laid monochromatically beside comfy fabric upholstered chairs as throughout the room's decor, matte black mingles with earthy tan shades. Heavy, large moon-lander industrial lights hang from the ceiling. A large flatscreen beams in images from our spectacular universe: solar systems, nebulae and swirling northern lights set the tone for the evening.
Our server arrives to the table, she is polite and friendly yet professional. We peruse the menu. It is adventurous and takes some risks with obscure pairings; unexpected twists on distinctly modern Polish and European fare.
---
Is your mouth watering yet? Want to book a table?
---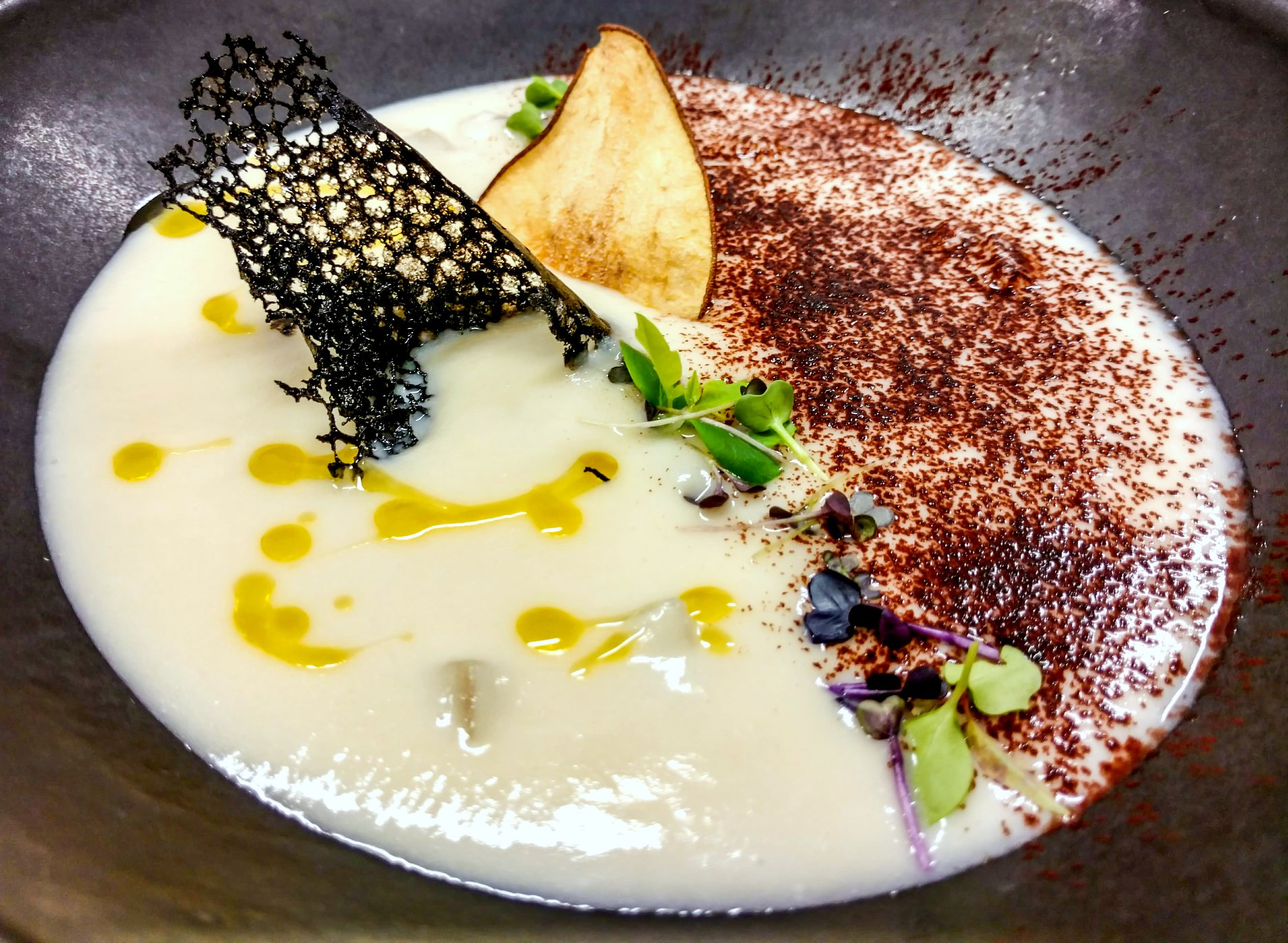 The Appetizer
We are first presented with a surprise chefs appetizer: Polish 'twarog' (a delicately sour white cheese) with Polish ham. It may seem strange to those who were born in Poland and have become jaded with the simple pleasure of these truly wonderful, timeless staples; but this is a great opportunity to refresh your experience and for the tourist, it is the perfect introduction to the true flavour of a nation.
First Course
Sunchoke Soup - Stunning presentation with more of that infinite-reaches-of-space matte black forming the bowl and contrasting fabulously with the pastel yellow of the hot liquid sun(choke). To the perfectly creamy blend, we have the addition of pear, olive oil and a warming, balancing hint of cacao. It's delicate, subdued and has infinite depth. I could swim in it.
Sheeps Cheese - Another food-art representative of the starry night sky, dollops of moreish 'bryndza' sheeps cheese mingle as in a constellation cluster of raspberries, thinly carrot slices curled up like spinning black holes, purple tinted cauliflower, quartered cherry tomatoes, white grapefruit & more. A sliver of crispbread floats atop this colourful and delicious array.
Second Course
Rabbit Roulade - Paired with gorgonzola, rhubarb and chocolate, this dish instantly caught my curiosity. How could I not explore the potential of those flavours combined? Sitting pretty atop a bed of gnocchi-like pasta niblets wearing a pale yellow coat of melted gorgonzola sauce, the perfectly proportioned rabbit medallions are deliciously moist, robust and chewy. The succulent flavour of these meaty bites is unexpectedly infused with the sweetness of the chocolate, and blends expertly the tartness of the rhubarb reduction with the nullifier of the cheese. A very unique and playful experience.
Cod - Once again proving their flair for decadent, artistic presentation, this fish dish is sensational to look at. Vegetable pappardelle provides a delightful alternative base for the expertly steamed, clearly high-quality fillet of fish. Charred leeks adorn the colourful plate, adding depth to the subdued flavour palate of the meal.
Dessert
Lime Granita - A delicate temple of crushed ice has been carefully piled beside a scoop of tastebud-tingling pistachio mousse, both of which rest on a spread of breadcrumbs. This earthy scene is decorated around raspberry sponge tower, assorted berries and edible flowers, giving the entire ensemble a mysterious 'midsummers night dream' type quality - and the experience is all there. A veritable menagerie of sensations pass through the mouth as you explore the many components of this wonderful dessert. Yum!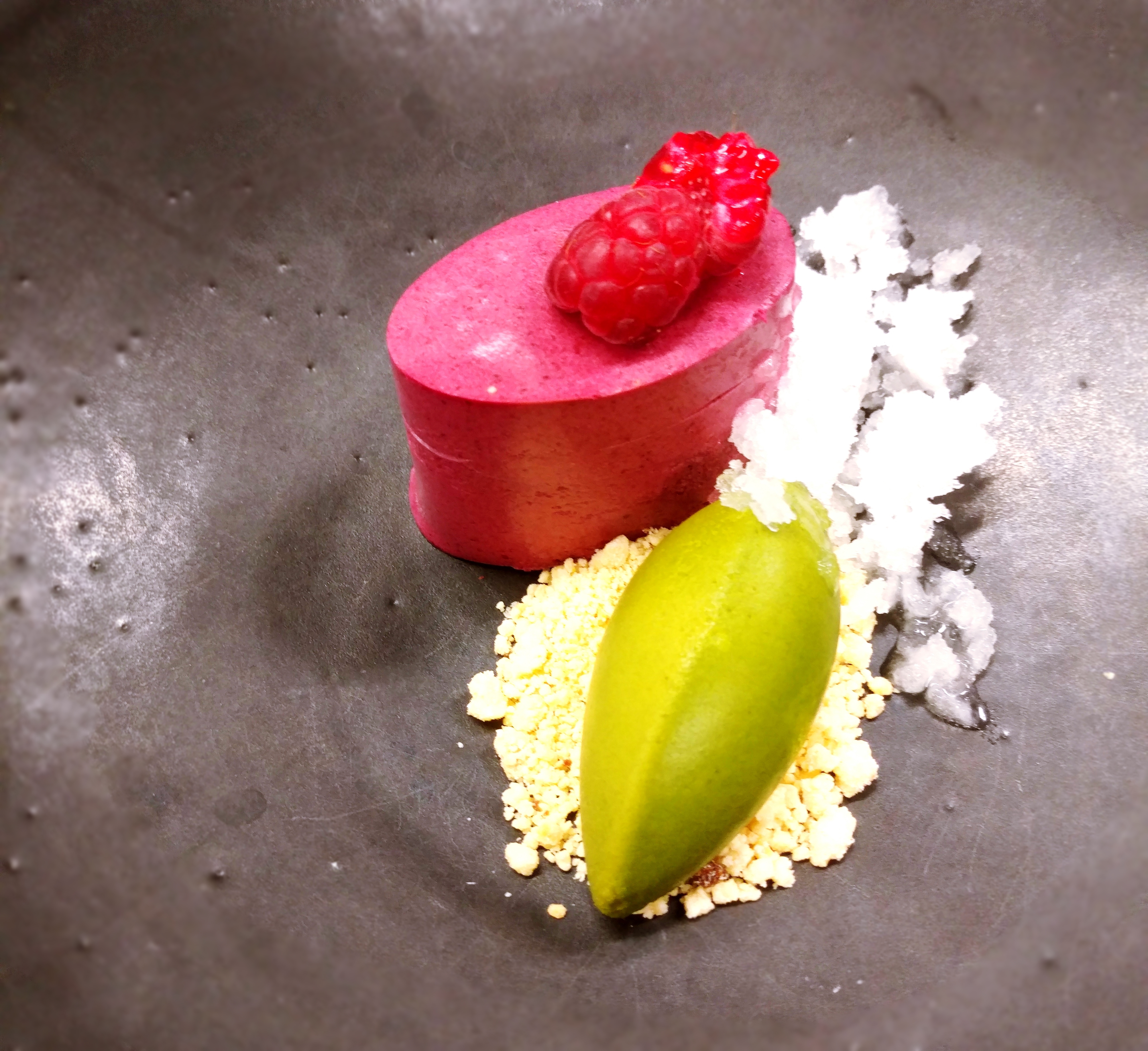 Whether you are a traveller or a local, a foodie or just hungry, we highly recommend a visit to Hotel Galaxy's Andromeda Alfa Restaurant and name it as one of the must-taste points on the flavour map of Krakow. This hidden jewel offers new dimensions for the adventurous gourmet, with the guarantee of a satisfied tummy at the end of your journey across a universe of flavours.
---
We know you're really hungry now, so here's how to find them:
ul. Gęsia 22a // +48 12 342 81 42 // Official Website // Local Life Page
Comments