A Stunning Panorama
Gradowa Mountain is a relatively unheard of spot in Gdansk, but its proximity to the Old Town and its spectacular views make it a must for visitors and natives alike. To get there, head to the PKS bus station. Then walk north for about 100 metres and look left. You'll see some smooth pathways leading up an oddly steep hill. That hill is the Gradowa Mountain, home to the Millennial Cross (also known as the Millenium Cross) and a few other buried gems.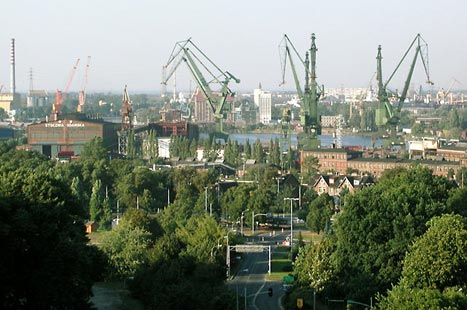 After a brief climb, you'll be able to look out and see the entire city of Gdansk. The shipyard cranes, St. Mary's Church, and the taller skyscrapers combine for an odd, if not beautiful skyline. To the left you can see the SKM trains making their way to Sopot and in the distance, the Baltic and its beaches beckon! Behind you stands a 20 metre tall cross, erected in 2000 to celebrate 1000 years of Christianity in Gdansk. Further behind you you can see a series of odd lumps. Upon closer inspection, you'll find that the entire man made mountain provides cover for underground forts, bunkers, and artillery depots. If you follow their trail, there is actually a clearer view of the Old Town and the towering churches, so be sure to bring your camera along.
Dotted along the pathways and trails you'll find a number of benches, and if they aren't occupied by young couples talking about the Napoleonic Code and its implications for Gdansk in the early 18th century, then they make for the perfect place to enjoy a good book or have a picnic.
If you've ever been to Cracow, the Gradowa Mountain will remind you of Kosciuszki Mound, although its even closer to Gdansk's City Centre than its Krakowian counterpart. There is also a mound in Oliwa named Pacholek Hill, which provides a similar elevated vantage point for those in need of some incredible panoramas!
Comments
Most people know this place as 'forty' which means 'forts'. The antique fortications are being renovated right know. Thay are also planning on building a lift, connecting train station directly with the mountain, so you don't have to walk:)
Reply
I read about this on your sight and thought I'd check it out while in Gdansk. The people at tourist information had absolutely no idea what I was talking about (in fact they seem to know little about Gdansk in general), but I found it easily on my own. Just walk through the train station to the bus station and out into the open. You'll see overgrown dirt trails leading uphill--take one and go exploring, it's really worth it. There are great views of the Old Town and the shipyard. The red-brick fortifications are cool for their ubiquitous understated presence and there are even some good spots for playing football or other outdoor activities. Overall, a great place to have a picnic, pitch a tent, smoke a joint, drink a beer, read a book, snog your girl, whatever. Thanks for the advice.
Reply