Active Club Eindhoven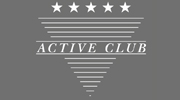 Phone

-

Website

-

Address

Kleine Berg 12
Local Life Eindhoven is about to select candidates for Best Places awards, dedicated to rewarding and encouraging excellence in products, service and ideas. You are helping us to make the best choice.


Active Club Eindhoven has 0 votes. Click here to see the results.


You can vote once a day for your favourite place.
Editor's review
Located in a beautiful former printing house in the city centre, the Active Club is a one of a kind gym offering personal training to each and every member. The knowledgeable staff have extensive physiotherapy and sports education ensuring that all gym-goers receive individual specialist advice. Exercises can take place on the variety of state-of-the-art machines or on the mat with free weights, steps, balls and punch bags. The Active Club boasts well-equipped changing rooms complete with showers and saunas, and treatment rooms ideal for the physical therapy and massages available. You can also request lifestyle and nutritional advice which can be followed by a different delicious smoothie of the month at the drinks bar.


So how exactly does this training experience work? After informing the Club of when they will work out, members are met by their friendly personal trainer who creates a tailor-made training programme for them. It's a great opportunity to receive guidance on any injuries, physical limitations or difficulties, but it's not all talk and no action. Once the plan is made, the personal trainers are there every step of the way to support members and ensure that they are getting the most out of the Club. Forget the typical, inefficient routine at overcrowded, pretentious gyms. The one-on-one approach at the Active Club gets results in shorter but more concentrated training sessions and there's no posing here. Members are from all walks of life, but they all have a couple of things in common: they're not here to judge, they're just here to have fun training around one another!


Editor
Editor & Eindhoven Local
Reviews