Top 10 things in Eindhoven for Expats
In case you're wondering why to come live here, in this article we've listed the top 10 things that make Eindhoven a top destination for expats:
1. Innovation
If every city likes to boast a creative spark, well, Eindhoven has the papers to prove it. OECD figures indicate that this small area in the south of the Netherlands averages 22.6 patents for every 10k citizens. Based on this study, Forbes named Eindhoven "the most inventive city in the world".
Looking for inspiration? Then Eindhoven might be the right place: bio-needles, real-time advertising and 3D printing are just some of the projects pioneered in the Dutch community. Patent applications aside, you can also read on to learn all about visa and residency requirements on InterNations.
2. Green spaces
Fresh air and greener pastures feature prominently in Eindhoven. Options include strolling through Genneper Parken on the way to the Genneper Hoeve organic farm. Alternatively, get connected with other expats in Eindhoven and organize a visit to Falconcrest Roofvogelpark - a public park filled with birds of prey and falconry shows.
3. Cultural scene
From classical music connoisseurs to avid fans of Guns N' Roses, everyone will find something to his taste at the Frits Philips Music Center. The Performing arts also thrive in the Parktheater, which runs theater, opera and ballet performances on a regular basis. In the same creative vein, the Klokgebouw (a former factory hall) has now opened its doors to dancers looking for a venue!
4. Urban sports
Skating and rock climbing aside, Eindhoven is a city that epitomizes the traditional Dutch love for cycling. As such, it hosts the Van Gogh-Roosegaarde cycle path. A marvel of urban development, the path mirrors Vincent van Gogh's painting "The Starry Night". Take your bike along for a ride at night and you'll know what it feels like to tour the Milky Way on two wheels.
5. Tech hub status
Technology thrives in Eindhoven. When one out of any 400 people you see on the street is likely to have applied for a patent, this shouldn't come as a surprise. Numerous tech companies, research initiatives and the High-Tech Campus ensure that diamonds in the rough don't stay in the rough. The results are visible.
6. The Blob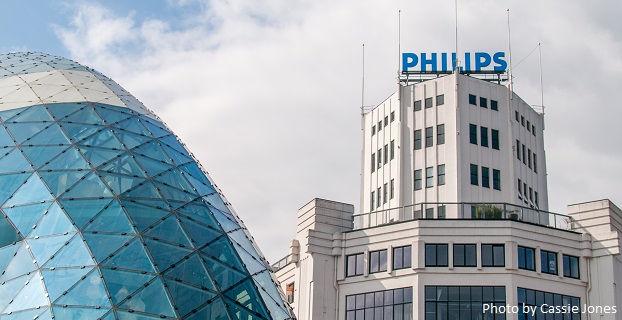 Indeed, look up "Eindhoven" on Google Images and you're likely to find a quaint, rather futuristic urban space – the kind that Steven Spielberg could choose to film E.T., the sequel.
Not to worry though. The landed spaceship in the city center, cordially known as the "Blob", only serves to reinforce the city's status as the Dutch capital of design and technology.
7. Museums
Expats in Eindhoven are being updated monthly with new showings of modern and contemporary art at the Van Abbemuseum. The museum also houses valuable works belonging to Kandinsky, Chagall and Picasso. Another destination is the Philips Museum, which takes visitors through the entire history of the Philips Corporation (founded and developed in Eindhoven). The tour clarifies how "the city of lights" came to be a nickname for Eindhoven, but also the many ways in which Philips shaped our world in the 20th century.
8. Festivals
Festival season kicks off in spring and ends in December, with no pause in between. During that time, residents partake in events as diverse as the International Horse Show (May), the Reggae Sundance Festival (August) and the Dutch Design Week (October).
9. Location
The Netherlands' busiest regional airport, Eindhoven Airport, lies at a distance of just 5 kilometers from the city. Served by a number of low-cost airlines, it's an affordable gateway to almost everything that Europe has to offer in terms of tourism. Expats wishing to explore the more distant horizons of the Middle East or North America are only half an hour away by Intercity train from Amsterdam Airport Schiphol (the fifth largest airport on the continent).
10. Laidback culture
In terms of work-life balance, you'll find yourself far outpacing three quarters of the developed world if you work in Eindhoven (and in the Netherlands in general for that matter). The cozy charm of a small community only serves to top off all the other attractions which make Eindhoven a top destination for expats around the world.
Comments
Ik word verder uitgesloten om een afspraak te maken met gemeente bestuurders van de gemeente eindhoven. Dit word mij per brief meedegedeeld door margo gielkens van de gemeente eindhoven. Dit doe mij denken aan de nsb toestanden in de jaren 40,... Alles wordt mij geweigert tot op de dag van vandaag. A rijkers van de gemeente eindhoven vertelde in het verleden dat ik fantasie verhalen heb,...
Reply