Christmas Markets in Berlin
Christmas is a big deal in Berlin, and every district in the city celebrates with its own little Christmas Market selling handicrafts and mulled wine in December. It would be nearly impossible to name them all, but we've collected a few of the best located in central Berlin. Read on...

Alexanderplatz Market and Rides
location: Alexanderplatz, Mitte, U and S-bahn Alexanderplatz
opening hours: 11am - 9pm
admission: free
2011 dates: 21 November - 26 December

Right in the heart of the central Mitte district, under the iconic TV Tower, is Alexanderplatz which for one month transforms into a winter wonderland. This particular Christmas Market is the best choice if you're travelling with kids, as the square will be filled with rides, a petting zoo, an ice rink (skates can be rented for 4 euro), and a huge 50m-high ferris wheel. Each gondola can fit up to 10 people, and the panoramic views of Berlin are, not surprisingly, incredible. The little ones can also take a photo with Santa Claus who stops by the market three times a day (4:30pm, 6:30pm, and 8:30pm). A wooden pavilion for dancing will be set up in front of the live music stage as well. As for shopping, stop by the St. Mary's Church (Marienkirche) for stalls selling handicrafts and traditional food. Of course, there's plenty of mulled wine for the grown-ups too!

Gendarmenmarkt Market
location: Gendarmenmarkt, Mitte, U-bahn Stadtmitte
opening hours: 11am - 10pm, 11am - 6pm Christmas Eve, 11am - 1am New Year's Eve admission: 1 euro, free for kids under 12
2011 dates: 21 November - 31 December

One of Berlin's most beautiful squares will host one of Berlin's most beautiful annual events - the Gendarmenmarket Christmas Market. While the market is open for all ages (and there is plenty to do for the kids - including performances by dance troupes and acrobats), we'd recommend this one for grown-ups in particular. The live entertainment leans towards classical and jazz music, and you can choose from both traditional, rustic food, as well as more refined Christmas treats cooked up by some of Berlin's top chefs. Instead of only offering local specialities, Gendarmenmarkt's Market has over 150 stalls offering a wide array of wares from artists, designers, photographers, and sculptors from around the world selling both modern items and the most traditional of crafts.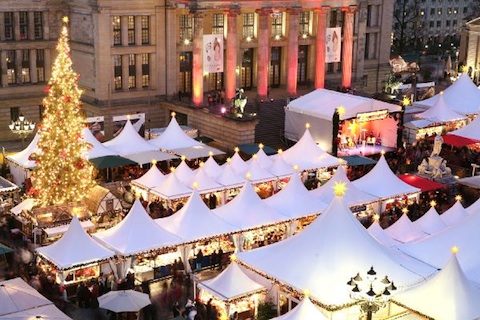 Santa Lucia Market at the Culture Brewery
location: KulturBrauerei, Schonhauser Allee 36-39, U-bahn Ebeswalder Str
opening hours: 3pm - 10pm
admission: free
2011 dates: 21 November - 22 December

The Culture Brewery (KulturBrauerei) in Prenzlauer Berg is a sprawling cultural complex of brick buildings worth visiting on any normal day, let alone for its fantastic winter market. The market takes an unusual angle, opting to focus on the day of Santa Lucia, or Saint Lucy, a feast day which takes place on 13 December and is celebrated in many countries, but is most well-known for its connotations with Sweden. As such, the highlight of the festivities is the eve of St. Lucy's Day, 12 December, when a procession will take place starting at 6pm. Otherwise, the brewery's courtyards will be filled with rides (bungee jumping and carousels) as well as market stalls. And if any of this gets old, you can always head any of to the Culture Brewery's standard attractions - bars, restaurants, galleries, a theatre, and a multiscreen cinema.

Charlottenburg Palace Market
location: Schloss Charlottenburg, Spandauer Damm, west Berlin
opening hours: Mon - Thurs 2pm - 10pm, Fri - Sun 12pm - 10pm, Holidays 12pm - 8pm, closed Christmas Eve
admission: free
2011 dates: 21 November - 26 December

The majestic Charlottenburg Palace is a little out of the way (not accessible directly by metro), but well worth the effort to experience the magical Christmas Market which takes place every year on the gardens in front of the schloss. The baroque palace itself is colourfully lit up, and before it you can find wooden stalls filled with international arts and crafts, delicious cuisine, rides, and a stage with a daily program of performances by choirs and classical ensembles. And while you're there, don't forget to explore the palace's interior too!

Winter World
location: Potsdamer Platz, U and S-bahn Potsdamer Platz
opening hours: 10am to 10pm (until midnight on Saturdays)
admission: free
2011 dates: 5 November - 1 January 2012

Not a Christmas Market per se, but rather a celebration of all things wintery. For over two months, Berlin's Potsdamer Platz allows city-dwellers to enjoy the best in winter sports. Here you can ride a toboggan down a man-made hill, skate on an ice rink, or try your hand at curling. Of course all the standard food and drink options are available, and for those in need of their Christmas fill - stop by the square from 21 November to 26 December when a special Christmas Market will be open as well.
Comments