Take Me To Mitte, Bitte
Berlin is comprised of many districts, each with their own unique atmosphere and claims to fame, but if you only have time to explore one of the capital's region then make sure it's Mitte. This is where Berlin started life in the 12th Century, as a small trading post by the river Spree, and, up until the end of WWII, Mitte (which means 'middle') was always the Berlin's political, commercial and cultural centre.
Post-1945 however and the district's importance was undermined by the socio-political circumstances of the times. After Hitler and Germany were defeated, Berlin was famously divided into four districts, each administered by one of the victorious Allies, the US, Great Britain, France and Russia. When the Soviets decided to erect their famous 'anti-fascist' wall around the Western quarters in 1961, Berlin was forced to develop as two separate cities. Mitte was no longer in the middle, but rather it was a Western outpost of East Berlin and of limited importance.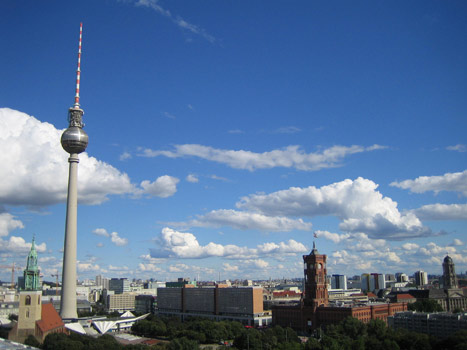 After reunification the largely run-down area experienced an amazing renaissance as an artistic district. Taking advantage of cheap rents, or squatting in derelict houses, young beatniks set up galleries and cafes on Oranienburger Strasse, such as Tacheles, and many a derelict building found a new purpose - techno parties, ramshackle bars and cultural meetings were rife.
In 2001 Berlin's districts were redrawn and Mitte incorporated the districts of Tiergarten and Wedding (in old West Berlin) to form a new much larger Mitte Borough. Generally speaking the old divisions are still used when referring to locations (such as on this website!) but the administrative changes mean that officially the large swathe of parkland that is Tiergarten and the sparkling new Reichstag building, Germany's political heart, now fall within the boundaries of Mitte, adding to the sense that it has firmly re-established itself as the heart of Berlin.
Indeed whilst you'll still find excellent alternative nightlife and shopping, thanks to the legacy of the hip 90s, and a distinctly cosmopolitan vibe, thanks to the large number of immigrants settled here, Mitte is now very much the tourist centre of the city, with some of the edgier more avant garde ideas moving out to the likes of Kreuzberg, Friedrichshain and Prenzlauer Berg. Today's Mitte is looking distinctly plump and healthy after the ravages of WWII and Communism, and as you stroll from the futuristic Hauptbahnhof Station, past the sparkling Reichstag building, underneath the Brandenburger Tor and down the majestic Unter den Linden, admiring the renovated Zeughaus, the luxury Adlon Hotel and epic vaults of Museuminsel as you go, it is hard to see any evidence of the district's fifty odd years in the wilderness.
If you're setting out to explore Mitte, the walk described above will form a magnificent introduction to Germany's grandiose past and indeed virtually every building on and around the Unter den Linden has played an important role in Berlin's history. However stray away from this mighty boulevard and you'll find plenty of other sightseeing opportunities. Alexanderplatz was once a grand square until Erich Honecker got his socialist hands on it and turned it into a shrine of kitsch Commie architecture and the city centre of East Berlin under the GDR. Now it is famed for the faintly absurd (but nonetheless impressive) Fernsehturm TV Tower as well a number of cool hangouts like Weekend Club.
Potsdamer Platz is well worth a visit too. Once Berlin's busiest intersection and a centre of the Golden Twenties famously decadent nightlife, this grand square was completely levelled during Allied bombing raids and ignored during the times of the GDR. Now it has risen from the ashes, Phoenix-style to embody a sleek new Berlin of skyscrapers, shopping malls and multi-screen cinemas.
For yet more entertainment head to Gendarmenmarkt for a classically beautiful square in the European mould, to Friedrichstrasse (a vast avenue which runs perpendicular to Unter den Linden) for upmarket retail therapy, to Nikolaiviertel for a slice of medieval history courtesy of Nikolai Church, and head North and nose around Brunnenstrasse for the last remnants of artsy, avant garde Mitte.
Check out our online map of Berlin to get your bearings!
Comments