Shops and shopping...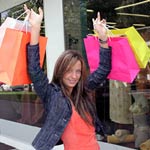 Yes you can officially drop the empty shelves cliche of the old Eastern bloc - it's about twenty years out of date after all. These days you'll find Riga offers all the variety and quality you would expect of a city approaching 1 million in size, and you can have plenty of fun shopping for familiar brands in spanking new shopping centres. Be warned however that Western labels are something of a status symbol in Latvia and as such they can be more expensive than back home. Bargain hunters might prefer to see what reputable national stores offer - or for real cut price deals check out the Riga Central Market.
Looking for something specific?
See on Map
Top rated shopping in Riga