MOCAK Summer Cinema:
Map
07-07-2017 until 25-08-2017 Starting at 21:00 Ending at ul. Lipowa 4

Throughout the summer holidays, we invite you to our evening film screenings referring to the issues raised by the exhibition "Art in Art".
The shows take place on holiday Fridays at 21 o'clock in the arcades of MOCAK from 7 July to 25 August.
FREE ENTRANCE
Each of the projections will be preceded by an introduction to the issue of the presence of art in cinema, developed by the filmmaker Adrian D. Kowalski.
=> July 7, Friday, 21 "Exit through the gift shop" dir. Banksy 2010 1 hour 27 min
We wanted our movie to do for street art what the "Karate Kid" did for martial arts. Banksy, a legendary British graffiti artist who has been keeping his identity a secret for years, from the whole world. "Exit through the gift shop" is his directorial debut and brilliant provocation, similar to Banksie's startling street action. The hero is Thierry Guetta, the eccentric owner of a vintage clothing boutique in Los Angeles. This amateur filmmaker obsessively and at all costs desires to find and make friends with Banksy, an enigmatic man, world-famous with amazing works of art that can be found in the streets of London, New Orleans or the "security wall" in Israel. Black humor, thrilling thriller and urban partisans in one movie. Impossible? [Distributor description]
Trailer: https://www.youtube.com/watch?v=k02t4cvJwUo
VIEW FULL SUMMER FILM PROGRAM IN MOCAK-U: http://bit.ly/2tsuRvQ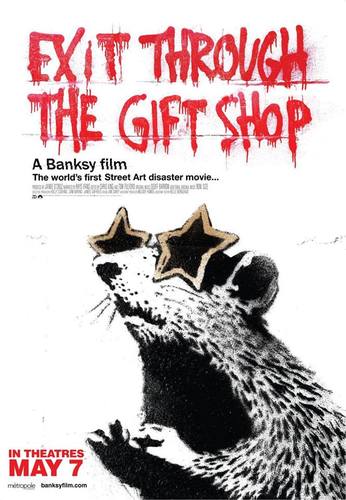 This event happens in MOCAK