Gmach (Edifice) – Karol Pałka (KRAKERS)
Map
21-04-2017 until 07-05-2017 Starting at 19:30 Ending at Św.Tomasza 24, 31-027 Kraków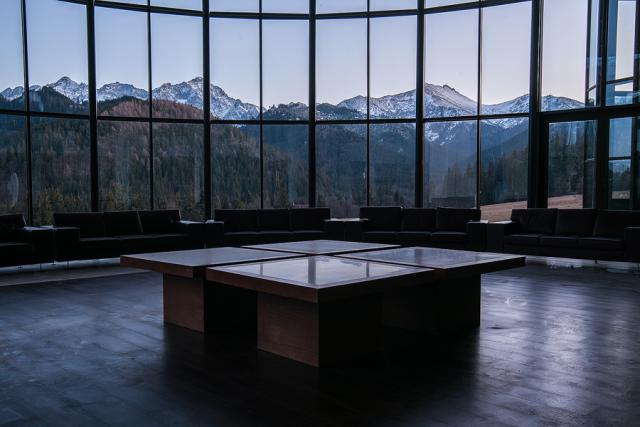 "For man, unlike any other thing organic or inorganic in the universe, grows beyond his
work, walks up the stairs of his concepts, emerges ahead of his accomplishments. This
you may say of man—when theories change and crash, when schools, philosophies,
when narrow dark alleys of thought, national, religious, economic, grow and
disintegrate, man reaches, stumbles forward, painfully, mistakenly sometimes. Having
stepped forward, he may slip back, but only half a step, never the full step back."
John Steinbeck, The Grapes of Wrath
"Edifice" is a visual journey to the time that most would like to forget - photos document the selected objects which are the remnants of the Communist regime, which years ago rolled out through Europe. Photographs show the interior of the Hotel Polana, the closed Government-run resort, belonging to the Communist Party of Czechoslovakia; Administrative Centre of The Vladimir Lenin Steelworks, the famous work of socialist realism in which the visit filed m.in Nikita Khrushchev and Fidel Castro.
Karol Pałka invented the title "Edifice" in order to speak about power and its durability. "Edifice" provides shelter, security, peace and at the same time a sense of power. However, this is a delusional feeling and the power - contrary to the conviction of those who hold it - was not given wholly, but only for a moment. Meanwhile, the spectrum of the fall is near and waits just around the corner, just behind the cold and thick walls of seemingly great ideas.
The project has been awarded to one of the most important photo contests in the world-PDN Photo Annual 2016 and La Quatrieme Image Festival.

Curator: Krzysztof Kowalczyk
Text: Bartłomiej Smoleń
Karol Palka (1991) is a Polish photographer studying in Krzysztof Kieslowski Film Department in Katowice University and Wajda School in Warsaw. Member of the Association of Polish Art Photographers. His works has been awarded at PDN Photo Annual 2016, International Photography Awards 2012/2014, Prix de la Photographie 2015 and got through to the final stage of Hasselblad Masters Awards 2014, Young Talents 2017 of La Quatrieme Image.
Vernissage: April 21, 2016 at 19.30

Where: ZpafGallery, Św.Tomasza 24, 31-027 Kraków
When: April 22 - May 7


Phone: 502 577 868
Email: info@zpafgallery.pl


Web: www.karolpalka.com
Facebook Event: https://www.facebook.com/events/191373848043610/