25th finale of the Great Orchestra of Christmas Charity (WOŚP)
Map
15-01-2017 Rynek Główny 30-062 Kraków Poland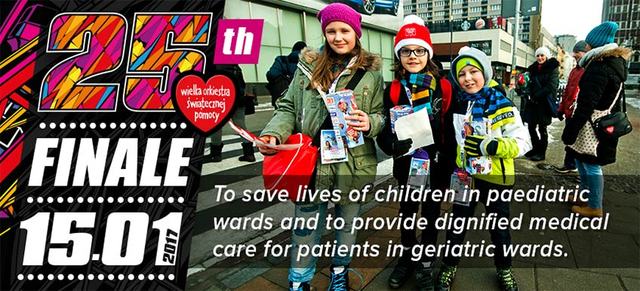 Probably the biggest charity event of the year, held across the country in aid of the health children and the elderly - the 25th finale of the Great Orchestra of Christmas Charity holds a concert not to be missed! Now famous in Poland for their big name blow out's, the main square will on Saturday 15th be filled with charitable volunteers and spectators alike as they dance away the chilly evening to the tunes of some of the most well-known Polish bands & musicians.
Featured bands are the likes of De Press (Polish-Norwegian punk-rock/highlander), Golden Life (80's Gdansk Alternative), People of the Haze (Punk/Grunge/Alternative) and Kabanos (Polish Rock/Metal)
Although the concert is free of charge and open to everyone, there will be loads of friendly volunteers walking around to collect donations (you get a cute little heart sticker in return!) from those who wish to contribute. WOŚP is an organisation who strive to support hospitals with paediatric and senior care.
"We have been playing for 25 years! It's a lifetime in the history of the country. We have managed to help almost all hospitals in Poland. We can do the work we do only thanks to the generosity of the people, who want to donate - and let me tell you that every penny thrown into the collection box helps public medicine in Poland! I won't hesitate and say that the work we do is for the common good of all people living in Poland" - Jurek Owsiak
"We will focus our fundraiser on purchasing equipment for wards providing general paediatric treatment and making sure that the oldest patients have access to dignified medical care in geriatric wards. Experts say that paediatrics still in dire need of equipment. Despite the support Polish public hospitals receive from the GOCC, the needs are overwhelming - equipment is often outdated or simply there is not enough of it. When we speak about general paediatrics, what we need to remember is that these wards treat children up till the age 18 - so, there is the need for beds of different lengths, for instance. These wards need both complex hi-tech devices and some of the basic pieces of equipment such as manometers. The GOCC remembers about the overwhelming equipment shortages in geriatric and long-term-care units and wards. "