A Place to Skate
Krakow is certainly not lacking entertainment options in the city centre, but while those who like to go to the cinema or theatre, or watch a football match can find plenty of places to go without leaving the Old Town, those with a more active hobby such as skating will find themselves left behind.
At the moment, there are two proper skateparks in Krakow, both out in the suburbs at the edge of the city. The first one, in the Widok neightbourhood, is located at the park on ul. Zarzecze, and features a half-pipe. The second, larger skatepark is located on ul. Wyslouchow in the Kurdwanow neighbourhood, and has several large ramps and pipes.
However, what's really missing is a proper park in the centre of the city, perhaps in one of Krakow's numerous central parks, or even at the Blonia Commons. An indoor park would be ideal for the long Polish winters as well. If you agree, please feel free to leave a comment below, and hopefully with enough support we could get Krakow a proper skatepark!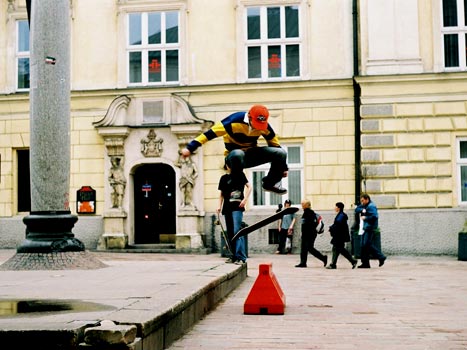 Above: If Krakow had a proper skatepark, perhaps St. Mary Magdalene Square would be more open for tourists.
Comments
Next year i go to krakow with school and i realy like skating so i hope ook can find some skateparks :) #skateeverydamnday
Reply
Needs an indoor park baaaad! The skatepark in Parka Jordana, is really only enough for a day.. It gets old fast. Too few modules, and options... Haven't had a chance to check out Skatepark Mistrzejowice, though that's tomorrow's trip. And just a thought, i haven't run into any police while i was skating, but are they open to street skating? (i'm thinking maybe trying some mall fronts, and plazas') Most cops in France will ask you to go to a park.
Reply
Decently needs a park
Reply
i went to Krakow for a holiday and an indoor skatepark would make it the best place i have ever visited ! make it happen
Reply
Hello Igor, I live nearby Wyslouchow street and never came accross the skatepark either. God places to skate is Park Jordana, possibly in front of Galeria Krakowska. I hope you enjoy Ktrakow!
Reply
I think there definately should be more skateparks in Krakow, and not only for skateboarders, but also for rollerbladers. P.S. Is the information about theskatepark in Kurdwanow district right? Cause I searched this Wislouchow street for a couple of hours and didn't find it =(( is it still there?
Reply
Yes, Krakow needs an indoor skatepark, especially that it's impossible to skate outside in the winter. At the moment I live in London and can't complain there quite a lot spots here, but every time I go back home (Krakow) I think to myself that this place needs propa skatepark!
Reply
I am now already some days in Nowa huta, Krakow. Due to a few local youths I found out where to go skate. They toke me to 'Plac Centralne' and a little further to a Metal Ramp. More in the city they told me I could find a skatepark in parc Jordana, but still this one is to small for all the skaters in a big city like Krakow. I guess Krakow needs at least one big indoor skatepark and several smaller local parks with at least some quatre/fun boxes and rails. Buy the way, because the lack of skateparks I've upgraded my street style.
Reply
Yeah Krakow skatepark! Make it happen!
Reply
instead of a skate park they should build a skate plaza wich is more street like, just like the skate plaza in gdansk
Reply
Skate park for Krakow!! I am coming to Krakow in a couple of weeks. Being a keen skateboarder I was interested whether there was a skate park to checkout. During my research I can across this petition. Now, coming from Australia, where skate parks are quite common, we now have some of the worlds best skater, as well as, lots of amazing young skaters and fit, healthy kids. so, a well planned and designed skate park where the community is involved the process has multiple benefits for young people and the community. Do it now!
Reply
Its a shame! Ill travel to Krakow in three weeks with my history class and iam very interested in skateboarding. I thought there is a skatepark in krakow espeacially an indoor park, because of the weather. my hopes are destroyed, but nevertheless ill take my board with me and i think there are good street spots?!??!?!? i hope so peace
Reply