Language Schools
If you plan on taking lessons, these are generally available either as part of a class, or privately. Prices vary dramatically, but expect to pay around 20 zl an hour as part of a group, and about 50 zl per hour for individual tuition.
Cracow is a university city, with a great academic tradition, and is awash with language schools to choose from, many of which are filled up with foreign students during the summer months. There are great deals to be made, and prices are extremely competitive compared to the rest of Europe. Many students come to Cracow to learn languages other than Polish, as the teaching, in general, is of a high standard, accommodation is good value, and the city itself is a terrific attraction, with plenty of things for students to do in the evenings.
Look out for good deals from the language schools, particularly as the summer draws closer and competition to fill remaining vacancies increases. Or, chance your luck and just pitch up in Cracow, where you can make your choice at first hand.
Many English-speaking visitors to Cracow so enjoy their time here that they decide to stay on and many seek employment as native English-speaking teachers. If you decide to do the same, make sure you get all the bureaucratic paperwork sorted out first - Polish immigration authorities are pretty sharp on this sort of thing.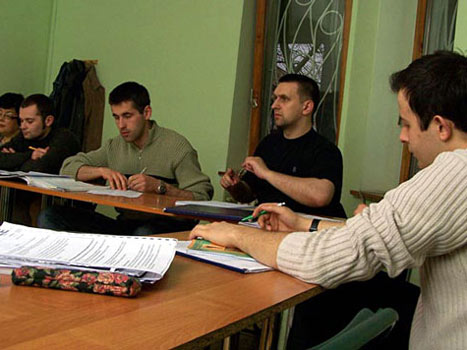 Language Schools
The Jagiellonian University School of Polish Language and Culture
ul. Garbarska 7A
The Jagiellonian University School of Polish Language and Culture, part of the Center for Polish Language and Culture in the World within the Faculty of Polish Studies, organizes short-term individual courses, two week intensive courses, one or two semester non-intensive courses, "Semester Abroad" as well as summer programs. Founded in 1969, the School is the oldest, largest and most experienced in Poland. Over the past 42 years it has welcomed thousands of students, teachers and professors from all over the world. During inauguration ceremonies, outstanding scholars of the caliber of Nobel Prize Winner for Literature Czesław Miłosz, Professor Norman Davies, Professor Leszek Balcerowicz, Oscar winning film director Andrzej Wajda and world-famous journalist Ryszard Kapuściński, deliver introductory lectures. In 2000, the Minister of Foreign Affairs of Poland awarded the School a prestigious honorary diploma for outstanding achievements in promoting Polish culture abroad.
In 2002, 2005 and 2008 the European Commission granted the School the European Label Award for innovative initiatives in language teaching.
Contact: plschool@uj.edu.pl , www.plschool.uj.edu.pl, tel. +48 12421 36 94, fax.+48 12422 77 01
Accent School of Polish
ul. Kącik 10
Accent School offers a range of Summer Courses to suit all levels. These classes are complimented with explorations of Polish culture, touching on all kinds of fun topics. Have a surf through Accent's website for precise info on all the courses they have on offer. Besides Summer courses, there are courses for entire semesters if you want to stay that little bit longer.
tel: 12 6567568
www.polishforforeigners.com
Varia Polish Language Center
Ul. Michalowskiego 2/3
Varia Polish Language Center is anything but a traditional school - focusing on motivating students to success that grows and keeps on growing. You will be expected to pass the tests and show improvement, but with social events, outings and even lessons in the pub, this one isn't going to feel anything like school!
tel: 12 6335871
www.varia-course.com
GLOSSA Szkola Jezykow Obcych
Ul. Dietla 103/1
Glossa takes the idea of learning a language and adds something a little extra - from teaching students about Polish culture and cuisine to helping them organise traditional holiday celebrations. What's more, Glossa have more than just the textbooks you need - they've got the teachers too!
tel: +48 (12) 4294051
www.polishinpoland.com
Prolog
ul. Bronowicka 37
One of the very best language schools in Krakow, Prolog enjoys an excellent reputation thanks to the quality of its teachers and teaching materials, some of which they have developed themselves in conjunction with EU funding. Polish courses for foreigners are taught in blocks of two weeks, and the school also can organise your accommodation and throws on a number of integration and cultural events. The school is well-located just a short tram ride away from the Market Square.
tel: 12 6384550
www.polishcourses.com

Maly Rynek
Maly Rynek 3
This language school on the charming 'Little Square' offers an excellent variety of courses including one-to-one and group lessons. There are plenty of languages to choose from: English, French, German, Italian, Spanish, Swedish, Russian, Portuguese, Japanese and Polish.
tel: 12 4227857
www.malyrynek.krakow.pl
Esej Centre of Foreign Languages
ul. Armii Krajowej 19
Take a fifteen week course at this forward-thinking language school, which uses 'blended-learning' to teach its students - ie. a mixture of effective traditional and modern techniques.
tel: 12 6395780
www.szkola-esej.pl
British Council
ul. Wislna 2
Splendid location in an old palace just off the Main Market Square. Professionally led courses in English by a committed team. You'll be talking like Her Majesty in a jiffy my dear fellow.
tel: 12 4285930
www.britishcouncil.pl
Cervantes Institute
ul. Kanonicza 12
Newly opened branch of Spain's official cultural organization. Lovely location at the foot of the Royal Castle. Top notch courses in the language of the goodly Cervantes.
tel: 12 6225422

Empik
Rynek Glowny 5
This school (attached to the exceelent Empik store below) boasts a regal view over the market square. They offer courses in English, German, Spanish, Italian, French and more.
tel: 12 4215544
www.empik.edu.pl
Everest
ul. Mieszczanska 9
Located over the river from the castle, not far from the Manggha Cultural Centre, Everest is a well-appointed, modern school with friendly staff. At time of going to press they offer a marvellous range of languages, including English, Russian, German, Japanese, French, Spanish, Swedish, Norwegian and Polish.
tel: 12 2605400
www.everest.edu.pl

Gzegzolka School of Polish
ul. Sw. Tomasza 1
This new language school uses methods by a renowned linguist and speech and language therapist from Krakow, to help pronounce those tricky Polish vowels. A great location right in the centre of the Old Town Quarter.
tel: 0 722224223
www.cuckoo.pl
Poliglota
pl. Szczepanski 8
Popular language school in the Old Town. Classes in Polish for foreigners, as well as English, German, Spanish, Italian and French.
tel: 12 4218128
www.poliglota.pl

Stairway School of English
ul. Felicjanek 10
Established school overlooking the Planty Gardens. Offers English lessons with English staff. After a thorough course here, you should come away with a Cambridge certificate of English.
tel: 12 4221836
www.stairway.com.pl

Berlitz
al. Slowackiego 64
Berlitz is one of the best-established language schools in Cracow. They're based a short tram-ride north of the Old Town Gate, and they offer courses in Polish, English, Spanish and more. The school picks its teachers with care, and as a result, it has one of the best reputations in the city. Classes can be both at home or at their main office.
tel: 12 6330320

International School of Polish Language and Culture in Cracow
ul. Bronowicka 58/5
The International School offers intensive two-week courses of Polish language, designed for individuals of all levels of proficiency. More than 2,000 participants from all over the world have taken their courses since 1997. Great number of students and language levels, best quality and competitive fees.
tel. 12 6614030
www.polishcourse.org