Top Ten Food Trucks in Krakow
Krakows food truck scene has over the past few years grown from a lone wolf to a whole wolf pack. You'll find these caravans of cuisine prowling all over the city and unlike the invasion of wasps, this is a creature that we welcome to swarm The first Food Truck "party" in Krakow was in August, 2014 which was organized by Street Food Polska. By the end of the day, 17 food trucks were left empty only because there was no food left. It was simply love at first sight. Now a days the Street Food Polska Food Truck Festivals have become a regular affair, congregating every few weeks in front of Galeria Kazimerz.
1. Bezogródek
A garden full of great food and great people (and dogs too). This food truck park opened up in the year 2016 with a whole group of food trucks such as the Bike Cafe, The Mystery Machine and more. A wonderful place to stop by with your fluffy friend on a sunny day to get your stomachs filled. With bulb lights hung over the fences and beach chairs, a hippie and a tumblr atmosphere is set in the air. https://www.facebook.com/bezogrodekstreetfood/
ul. Piastowska 20
Monday-Friday: 12:00-21:00
Saturday-Sunday: 10:00-22:00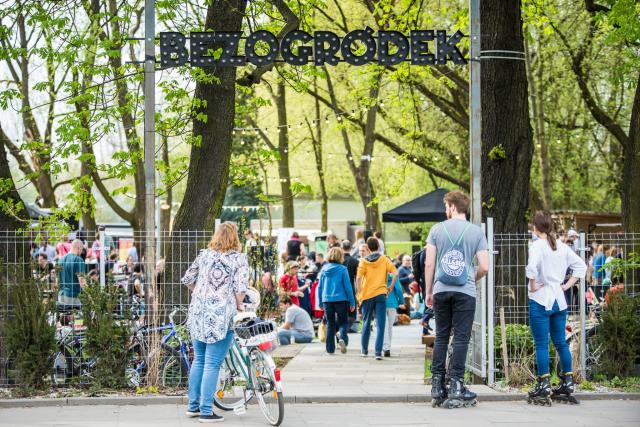 2. Skwer Judah
A strange name but with a meaning behind it. Another food truck square but this time it's found in Kazimierz, the most bohemian part of Krakow. Named after the street mural "Judah" which was painted by one of Israel's street artists in July 2013 at the Jewish Culture Festival. The concrete offers a perfect parking spot for the food trucks such as Big Red Bustaurant, Boogie Truck, Pan Kumpir and more. They are open every day but hours vary, keep in mind that fewer venues are open on Mondays. https://www.facebook.com/SkwerJudah/
ul. Świętego Wawrzyńca 16
Monday-Friday: 12:00-22:00
Saturday-Sunday: 12:00-24:00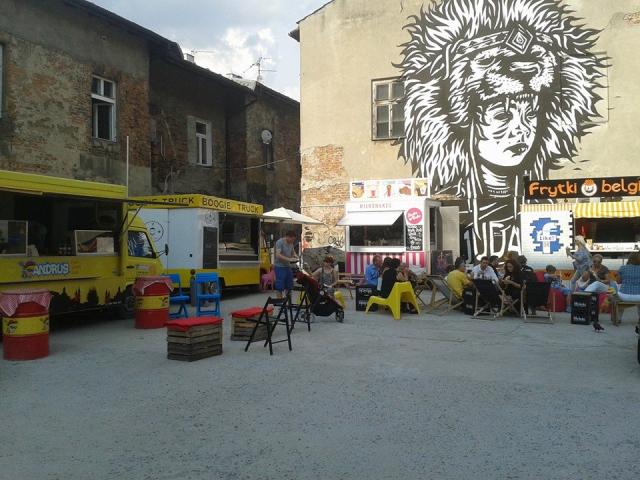 3. Frytki Belgijskie w Krakowie
Invented by people who risked their careers into trying to make their dream come true, this food truck is the first in Krakow with original belgian fries. To spice it up more, 8 sauces are offered to be topped on and of course, some fizzy drinks: Fritz kola, John Lemon, ChaiKola and more. http://www.frytkiwkrakowie.pl/
Corner of ul. Wąska and ul. Wawrzyńca
Monday-Thursday: 12:00-23:00
Friday-Saturday: 12:00-24:00
Sunday: 12:00-22:00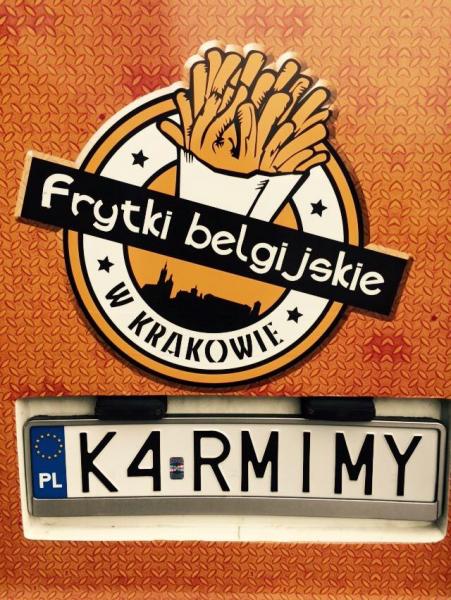 4. Calavera
A mexican grill with authentic, various and colorful dishes such as tacos, burritos, quesadillas and lots more. What's best is that there are several different versions to every meal: pork, chicken, beef, potato and vegetarian. Beside the food truck, there is also a bistro on ul. Biskupa 4/1 which delivers food during the day. There are two Calavera food trucks in Krakow, one is always at Piastowska 20 whereas the other food truck likes to move around, therefore, in order to make your search for their mexican goodness easier, checkout their website http://calavera.pl/
ul. Piastowska 20
Monday-Sunday: 12:00-21:00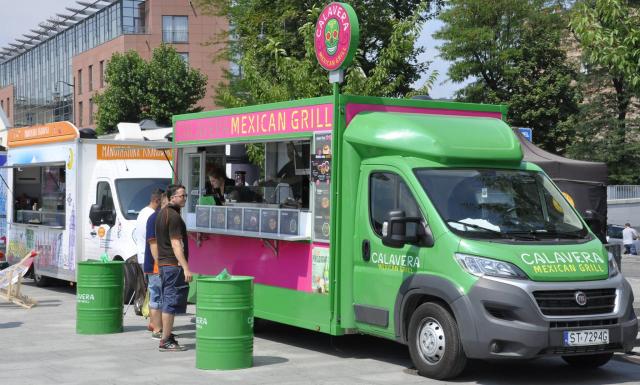 5. Hindus
The first indian street food in Krakow is set in a white trailer which was first seen this winter. Although the menu isn't much (only four dishes one of which is vegetarian), it is definitely worth a try. Dishes come in two sizes, 400g or 600g, and are always served with the original basmati rice on the side. Classical dishes include the Chicken Tikka Masala, Korma, Palak and Rajma Masala. http://www.hindusfood.pl/
ul. Lipowa 7
Monday-Friday: 11:20-20:00
Saturday-Sunday: 12:00-19:00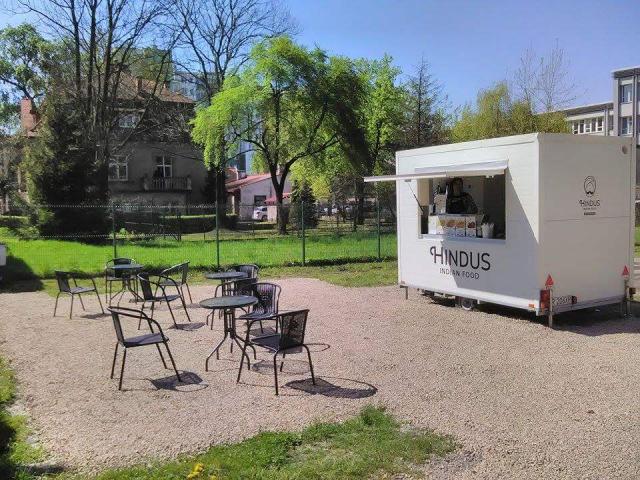 6. Bratwurst
This food truck is for the sausage lovers. The founders claim that while they were preparing their menu, they were only thinking of G.B. Shaw's quote: "There is no love sincerer than the love of food". With four different kinds of bratwurst dishes decorated with sauces and traditionally baked buns, curry wurst and belgian fries, these meals will ease your hunger. This food truck moves from place to place so make sure to check their facebook on their whereabouts. https://www.facebook.com/bratwurst.krk/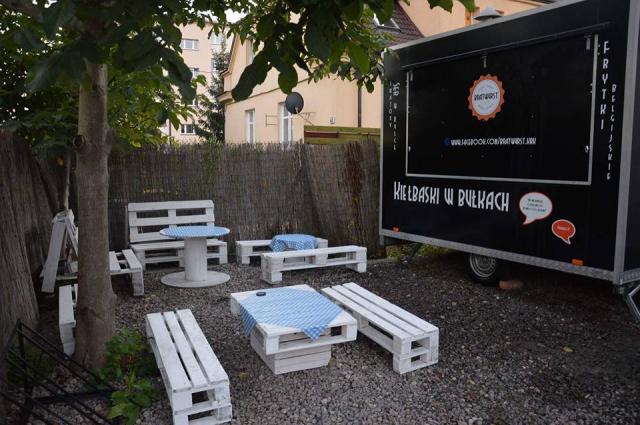 7. Walenty Kania
Also known as the "Kitchen for the brave", this food truck offers sausages from all kinds of meat: traditional from ham, white sausage from ham, deer, goat, horse and sheep. Born in Zakopane, this risky chef has a passion to experiment with new and different flavours and enjoys representing them at the food truck. https://www.facebook.com/Walenty-Kania-Kuchnia-dla-odwa%C5%BCnych-422677117842271/
ul. Jakuba 4
Monday-Thursday: 15:00-24:00
Friday-Saturday: 15:00-1:00
Sunday: 12:00-22:00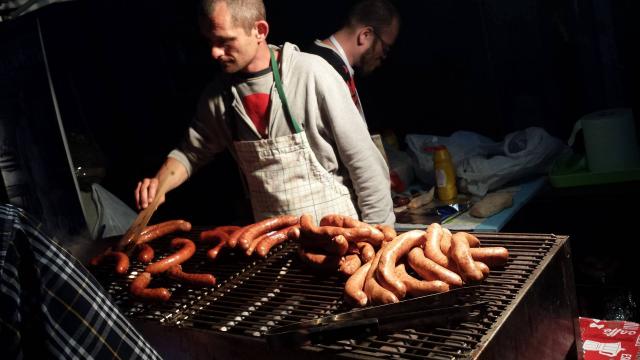 8. Pan Kumpir
One of the few food trucks which have stayed at the Skwer Judah for 2 years and still stands only because of the passion and enthusiasm of the owners. It offers Kumpir, a baked potato in different flavours with sauces and dressings. Careful, the portions are really big! There are two locations one of which is a food truck and the other a restaurant. http://krakowskikumpir.pl/en/
ul. Beera Meiselsa 22
ul. Swietego Wawrzynca 16
Monday-Thursday: 12:00-24:00
Friday-Saturday: 12:00-1:00
Sunday: 12:00-22:00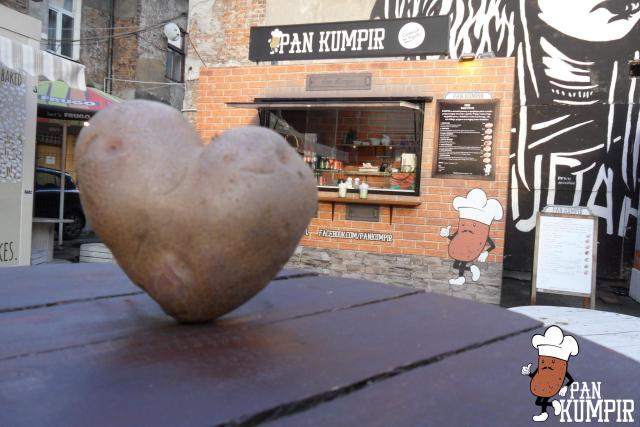 9. BurgerTata
With a Trip Advisor Certificate of Excellence 2016, it may possibly have one of the best burgers in town. Offering a simple meal of burgers and fries but with not so simple flavours and every month they bring a new 'burger of the month' to the van. http://burgertata.pl/
ul. Krupnicza 6
Monday-Thursday: 11:00-22:00
Friday: 11:00-24:00
Saturday: 12:00-24:00
Sunday: 12:00-22:00
ul. Prochowa 14
Monday-Saturday: 11:00-22:00
Sunday: closed
10. Trdelnik
A food truck with Czech wheels. You can find the famous and sweet dessert from Prague, the Trdelnik. With their traditional recipe, the dessert comes in many flavours: cinnamon, vanilla, coconut, nutella, nuts, plum jam and more. Relax with this delicious dessert right next to the food truck on their deck chairs. https://www.facebook.com/trdelnikkrakow/
Corner of ul. Ciemna and ul. Jakuba at Izaak Square
Monday-Thursday: 14:00-21:00
Friday: 15:00-22:00
Saturday: 11:00-22:00
Sunday: 11:00-19:00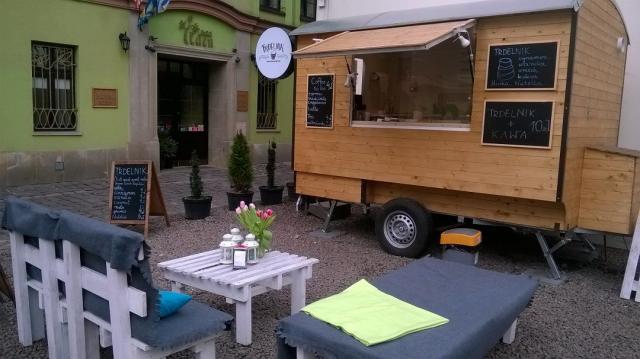 Comments
Just to let everyone know there's an ATM on Skwer Judah, so no excuses not to get a bite at one of the food trucks there !
Reply
Super sprawa, dzieki za info !
Reply