New Arrival at Tatra Museum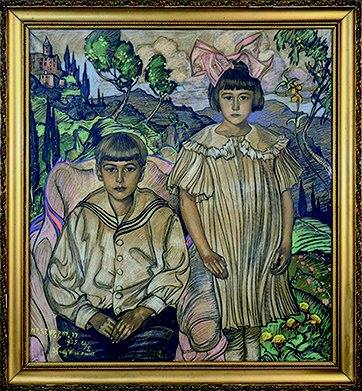 Since recently Tatra Museum in Zakopane can boast a very special piece of art by Stanislaw Ignacy Witkiewicz, aka Witkacy, the eccentric Polish painter, philosopher, playwright and novelist. More precisely, it's a pastel portrait of Krystyna and Ludwik Fischer, children of a prominent 19th century Zakopane family. For that very reason Museum's authorities wanted it to be close to the Tatra Mountains. The work was bought from a private collection, its price having reached over a quarter of a million zloty.
But the uniqueness of that painting , is surely not all about money. Firstly, every portrait painted by Witkacy is one of a kind, marked with letters A-E. Every letter means different technique, colors, background and even various substances, under the influence of which Witkacy was while painting. Secondly, the portrait itself is mysterious and colorful. On the one hand the characters are hyperrealistic, on the other the landscape in the background seems to be surrealistic. Such a mix is always impressive, and no wonder that it became the main feature of Witkacy's art. Thirdly, a double full-body portrait by the painter is scarcer than hen's teeth, to only three of them survived to the day.
The portrait has been publicly exhibited only twice so far, the last time 25 25 years ago. After a quarter of a century an opportunity arises yet again. "Portrait of Krystyna and Ludwik Fischer" " will be presented from November 14th in the Twentieth Century Art Gallery at Villa Oksza in Zakopane.
Comments