Animal Rights Activists Protest Against Horse Transport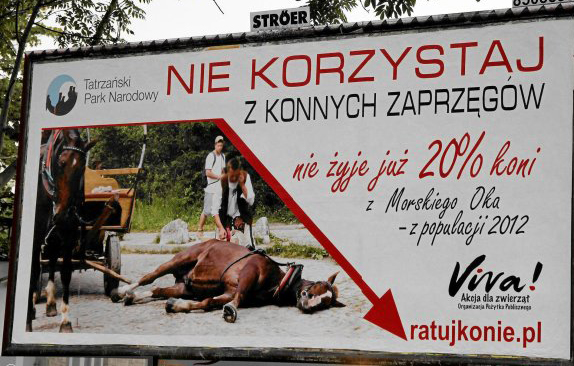 A while ago the animal rights activists petitioned the Tatra National Park, the operator of the tourist trail to Morskie Oko mountain lake, to completely ban horse carrages. The crusade started after in 2009 one of the working horses, Jontek, dropped dead in his harness, right on the eyes of tourists. Since then many voices have advocated against using horses on a slopy road to Morskie Oko. The horses have been numerously examined by veterinarians for various organism malfunctions that would prove them incapable for such a hard work.
"The results proved that the horses' health is better than the activist claim, and worse than the drivers claim" said Szymon Ziobrowski from the Tatra National Park.
To make their point, the activists have recently put up banners with drastic pictures that are to discourage tourists from using this type of transport, and information that 20 percent of Morskie Oko working horses are already dead", and that those unable to work are "sent to slaughterhouses".
Such arguments are indignating for the drivers. Stanislaw Chowaniec, the head of the Morskie Oko drivers' association claims that just a few animals are exchanged during the season, and that there is no telling where they end up, as they are sold to horse traders. "They might as well be working in tourism in some other places, or serve for recreation purposes. We don't change our horses as gloves, as most of all it is too expensive and time-consuming" said Chowaniec.
The Tatra National Park was also scalded by the environmentalists, for accepting horse transport on their grounds. The shocking posters include a remade logo of the institution, with a collapsed horse replacing the usual chamois.
"In our opinion the logo is just adequate to present what the Park does by silently accepting the system where the horses are overworked and after two or three seasons sold for meat" claims Czarek Wyszynski form Viva! foundation. The activists suggest the horse carts could be successfully replaced by electric cars.
Pawel Skawinski, the Park's director calls the modus operandi of the activists "dishonest, misleading and unacceptable". "I'm not a supporter of the drivers, but using a modifeid logo violates our rights. Our lawyers are now analyzing the situation for a possible lawsuit" adds Ziobrowski.
Comments
This is all not true. These poor horses are ending up in slaughter house as the are uncapable of doing other activities. The load these pooor animals are carrying is way heavier than it was measured few years back it is almost 950kg!!!!Just recently there was a protest against drivers -fiakry (dunno if spelling it well) but once again all fault came down on animal rights activists. Shame on you Poland I will never ever visit you again. Do not visit Zakopane please!!
Reply
Shame on you, alice, for the end of your comment. Actually, in Poland there are many people protesting against the situation described above. If you were wise enough, you'd know not everywhere in Zakopane (moreover, in Poland) there are people who even want to use carriages to Morskie Oko (JUST THERE the situation looks like this, do you even know where it is?) because of the bad fate of the horses. WE keep fighting for their good treatment, against the highlanders who actually care more about money than the health of their horses. But it doesn't mean all highlanders are the same. By saying stuff like this, you offend all of us in Poland who indeed fight for horses and want their future to be better. Are you aware of that? I guess not. Well, you don't live here. You don't get everything. Tell me better about Ireland's sins, maybe you're more familiar with those. Think twice before you say something, ok? Otherwise, I ask you nicely, get stuffed. Bye.
Reply