Wroclaw Zoo – A Grrrreat Day Out!
The City Zoological Garden in Wroclaw was originally established in 1865, which makes it the oldest zoo in Poland (a slightly ironic boast, since in 1865 Wroclaw was the German town of Breslau!). As well as being the oldest, The Wroclaw Zoological Garden has the largest collection of animals in Poland, with almost 7,000 in number from 600 different species, in an area covering 33 hectares.
Like most institutions in Wroclaw, the zoo has a troubled history. In 1921, following the economic crisis in Germany, it was forced to shut down. It was reopened in 1927 and enjoyed a healthy period of growth, however the events of World War II saw much of the zoo destroyed and many of the animals were killed or lost. After the war, with Wroclaw returning to Polish hands, the resurgence of Wroclaw University and its vested interest in the natural sciences paved the way for the zoo to be reopened in 1948 - albeit with just 150 animals of 60 different species. Great support for the zoo amongst the townspeople ensured that the garden quickly grew in stature, overcoming a number more setbacks, so that by the end of the 50s it had expanded to its current size.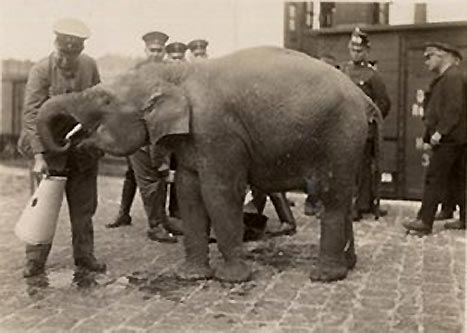 Nearly 60 years since it began its new life, Wroclaw Zoo is as popular as ever, attracting around 400,000 visitors a year (of which around 230,000 are children). Amongst the major crowd-pullers are the big cats (including a white Bengal Tiger), the bear house, the elephant house, the monkey house, and perhaps most impressive of all the Terrarium. Originally built as a vast restaurant seating a staggering 1,200 people, the Terrarium was destroyed in WWII and reconstructed in 1965-70 as the Reptile and Amphibian House. Meanwhile, in the more modern enclosures of the 1950s, the likes of giraffes, antelope and bison can be seen grazing at leisure.
For those who are keen to visit the Zoological Garden and find out what it is like for themselves, you will find the institution situated on the ulica (street) Wroblewskiego, 1-5 - which is a little East of the centre of town and is accessible by trams 1, 2, 4, 10 and 19 and buses 145 and 146. Or you might want to save yourself some time and jump in a taxi.
The zoo is open 9am-6pm in summer and 9am-4pm in winter with the box office closing an hour before the zoo itself, so make sure you are there by 5pm or 3pm respectively. Tickets cost 10 zloty for hard-working citizens, or 4 for slackers.
You can visit the official City Zoological Garden in Wroclaw website by clicking here. Make sure you've got your Polish dictionary to hand!
We also list Wroclaw Zoo as part of our entertainment directory and you can find more information, including a review section there - please feel free to add your own witty and insightful comments!
Comments