Wroclaw Language Schools
It's hard to imagine that ten years ago anyone considering learning a foreign language would choose to learn Polish. After all Poland was a drab ex-Soviet bloc country which no one in their right mind would visit, and your chance of meeting a Pole abroad was slim to say the least... So what exactly was the point of doing battle with all those tricky consonants? What a difference a decade makes!
With Poland emerging from the grey shadows of Communism to one of the hottest tourist destinations in Europe, and Poles of every walk of life seeking employment abroad (particularly in the UK and Ireland), and bringing Polish culture with them, today the benefits of knowing a bit of Polski are evident to all. So whether you want to explore this amazing country further and could do with a handle on the linguo, or you've fallen in love with a gorgeous barmaid in Dublin but are having trouble communicating your emotions - or more likely still you've got to the stage where all your employees speak Polish and now you need lessons- it's time to get over to Poland and open those textbooks.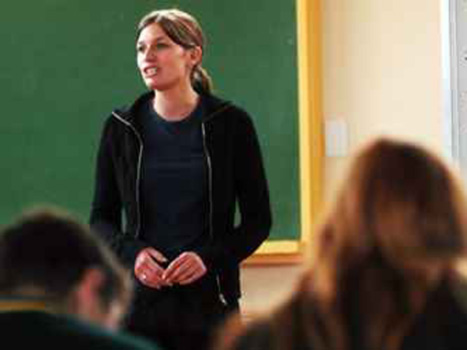 The benefits of studying a language in its country of origin are obvious. The chance to try out what you learn in the classroom everyday in the real world gets you off to a flying start... theory is all well and good but it is practice that makes perfect! As for the benefits of learning Polish in Wroclaw, well they are obvious too, to anyone that knows the city. With its ample waterways, parks and student institutions Wroclaw very much enjoys an atmosphere redolent of great academic towns like Oxford and Cambridge. Meanwhile a burgeoning restaurant scene and some of the best nightlife in Poland cater for the more epicurean needs of naughtier scholars. What's more from Wroclaw much of Poland is yours to be discovered... close at hand are the Sudety Mountains, Ksiaz Castle and much more, whilst Krakow, Warsaw, Gdansk and Poznan are all easily accessible by train, as is Germany's exciting capital, Berlin.
Wroclaw Language Schools
After you've decided that you want to learn Polish in Wroclaw, then it's time to investigate which language schools operate here in Lower Silesia and what courses they offer. Below is a list of language schools so get in contact with them and sign up to learn this beautiful (albeit difficult!) language.
Polonica School of Polish
A young company with a dynamic approach to teaching languages, Polonica have quickly established themselves as one of the best Schools of Polish in Wroclaw. Their package is probably the most flexible out there as they offer everything from individual lessons, to group courses as well as summer language camps, language excursions and survival courses in practical Polish. All are offered at very competitive prices. Whatever your reasons for learning Polish, and no matter how much or little time you can devote to studying, Polonica can tailor a course to suit your needs... just get in touch with them. Many of their offers include fantastic socialising opportunities and a chance to experience Polish culture first hand.
Tel: +48 (0) 609690086
www.polonica.edu.pl

Link School of Polish for Foreigners
Tap into nine years of teaching experience at the Link Language School, found right in the heart of Wroclaw's city centre. Lessons are arranged to suit your needs and great emphasis is placed on providing an enjoyable and stimulating learning environment to develop practical communicative skills. Social activities also organised!
+48 (0) 604649554
www.link.szkola.pl

CEO Polish 4 Foreigners
Center of Education for Foreigners offers you a wide variety of programs and courses to introduce you to the various aspects of Polish culture and society. Whatever matter the reason you have for improving your language skills, you will find a program to match your needs. CEO Polish 4 Foreigners also offers private and mini-group courses for executives and professionals, a dedicated and experienced faculty using modern and efficient methods, the latest technology and a friendly environment in which to learn Polish.
+48 507196627
ceo.edu.pl
Language Cafe
If formal lessons aren't your thing then why not dip your toes into the Polish language first at the weekly "Language Cafe", organised by Polonica school of Polish at La Luz art bar and Mexican restaurant. Apart from the privilege of a pint in a 13th guard tower you can practice your Polski with natives and fellow foreigners. Just turn up at 8pm - it's free and a good way to meet new people in Wroclaw.
Comments