Wroclaw's Islands
Along with the hundred and twenty bridges, Wroclaw's twelve or so islands are part of the equation which add up to the city's 'Venice of Poland' title - a proud moniker which we might have mentioned once or twice already in this online guide of ours.
Whereas this small handful of islands hardly boast the appeal of a sun-soaked Greek Archipelago, there's no denying that these little fellas lend an additional charm to an already picturesque city. Most of them sit in a wide section of the river Oder between the University Quarter of the Old Town and the North Bank, where Ostrow Tumski is located.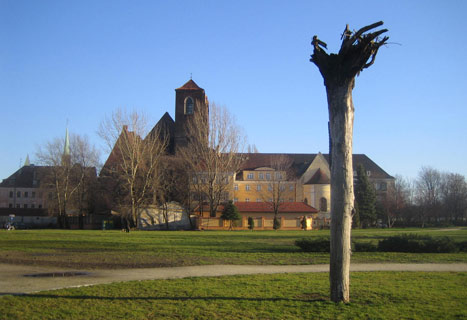 The first island you are likely to happen across, if you head out via the University Quarter, is the Wyspa Piasek or 'Sand Island'. Probably the prettiest of the isles, Sand Island boasts two churches: St. Anne's, and the magnificent Gothic Church of the Most Holy Virgin Mary. Once upon a time Sand Island was also home to a high density of attractive houses, however in World War II these were reduced to rubble. It's not all bad though, as today visitors will find instead a pleasant and open patch of grassland.

The other islands on the Odra may lack anything concrete in the way of tourist attractions, however nice views of the river and churches mean that many a Wroclawian likes to amble along their walkways, be it pushing a pram or tapping a walkstick on the ground. Worth mentioning are the tiny Tamka Island - attached to the mainland by a solitary bridge; the Wyspa Slodowa, from where many a photo opportunity arises; the Wyspa Mlynska, home of the popular Hotel Tumski; and the Wyspa Bielarska, which boasts a number of play areas for kids. Our favourite is the mini-mock up of a shipwreck!
Once you're done with the islands, head on to Ostrow Tumski. Also known as Cathedral Island, the Ostrow Tumski is now a landmass, ever since the Odra was filled in to its north. It contains some of Wroclaw's most spectaculour sites.
Comments
If you are going to visit Wroclaw, contact Wratislavia Tour. They can organize time perfectly. You don't need to lose your way in the city going with a map because all is organized and you can be taken to any place.
Reply
Wyspa Slodowa is a great attraction itself. Just drink a beer and enjoy the view at the Uni across the river! Great atmosphere, lots of people - you can not miss it if you are in Wroclaw!
Reply