Kadriorg - Palaces and Parkland
The green and pleasant district of Kadriorg is a much-loved Tallinn treasure, just 2km East of the Old Town and thankfully unspoilt by most of the city's rampaging tourists. Many a lazy afternoon has been whiled away here, strolling through winding parkland paths and quiet suburban streets dotted with splendid villas, modern apartments and traditional Estonian wooden houses.
But aside from the general 'niceness' of the area, Kadriorg also boasts more than it's fair share of tourist-worthy attractions, the most famous of which is the Imperial Palace of the same name. A Baroque number which Peter the Great had built for his wife Catherine ('Kadri' in Estonian), the Palace served as a retreat from the rigours of court life in Saint Petersburg. Today the Palace houses the foreign art division of the Art Museum of Estonia and also boasts some magnificently landscaped gardens. 'Check it!' as the Beastie Boys might say.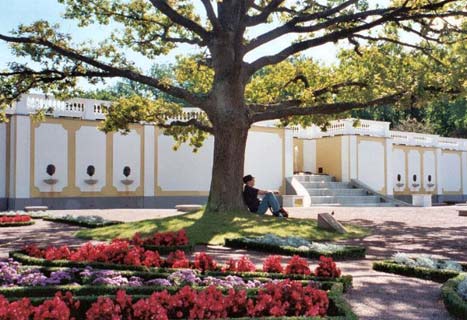 When you've finished admiring international art in the 18th Century Palace, head down the road to the more modern but equally impressive KUMU building. Its completion in 2006 finally gave Estonian art the exhibition space it deserves. Finnish architect Pekka Vapaavuori's futuristic vision is a wonder to behold.
Two art museums in one afternoon! Probably you're feeling a bit dizzy by now. Revigorate yourself with a brisk walk by the seaside. As you inhale the Baltic breeze check out the Russalka Memorial. It was erected to commemorate the death of 170 Russian sailors who died in a storm in 1893.
Finally, if you can stave off the need for a beer in the Old Town for another hour or so, go and check out the impressive Lauluvaljak Song Festival Grounds. Obviously more exciting when an event is happening, this vast space with characteristic demi-dome is one of the most impressive stadiums around.
Several trams and buses will get you from the Old Town to Kadriorg and back again. Follow trams 1 and 3 to the end of the line, or jump on buses 34 or 38 for example. The latter two will take you all the way to Pirita if you are so inclined.
Comments
what a magical place! i went with my girlfriend from the old town to kadriorg. the palace is wonderful and the gardens very romantic. i recommend for taking your other half
Reply