From Winning to Hosting...
It all started in Copenhagen, Denmark in 2001, when Estonian popstars Tanel Padar, Dave Benton and 2XL unexpectedly grabbed first prize in the Eurovision Song Contest with their entry 'Everybody'. In what was one of Eurovision's stormier years (the BBC was forced to apologise after Terry Wogan repeatedly referred to the Danish presenters - who only spoke in rhyming couplets - as Dr. Death and the Tooth Fairy; the Swedish song 'Listen To Your Heartbeat' by Friends was accused of sounding suspiciously similar to Belgium's '96 entry; and the football stadium venue was criticized by many as being too big) the diminutive country from the East ran away with a whopping 198 points and crowned European champs of pop music. As befits the winning of the continent's most coveted prize, the Estonians went wild in celebration, as thousands of proud patriots took to the streets, singing and screaming, blaring car horns and waving the national flag.
But the price of such success was not cheap! As winners in 2001, the responsibility for hosting the Eurovision Song Contest in 2002 fell to Estonia - at an estimated cost of 7 million US dollars. Despite rumours that the nation would be forced to defer, Estonian pride proved greater than financial obstacles. The government stumped up the necessary cash, the Saku Suurhall (a multi-purpose stadium seating 7,000 on the outskirts of Tallinn) was chosen as the official venue and Estonian TV prepared to host the biggest event in their history.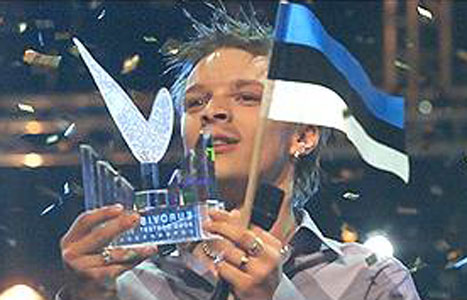 Needless to say, with national pride on the line, the contest ran smoothly and was a great success. The singer Annely Peebo and actor Marko Matvere presented the show with great aplomb and Marie N from Estonia's neighbouring Baltic State of Latvia was the deserved winner with the eloquently-titled song "I wanna". Meanwhile, Estonia's own effort, 'Runaway' by Sahlene, came in at a respectable third place, tied with the United Kingdom's Jessica Garlick who won 111 points with 'Come back'.
The result of all this action was a heightened interest within Estonia in all things Eurovision. The all-girl band Suntribe (think Spice Girls but younger) caused a big stir in 2005 when thousands of pre-pubescents texted like crazy to ensure that they represented the nation in Kiev. Unfortunately they were eliminated in the semi-final in the Ukraine.
Perhaps all this over excitement at what is considered by some cynics as light entertainment of the drossiest possible kind, can be explained by the genuinely significant role of singing in Estonia's recent history. Click here for info on Estonia's 'Singing Revolution'.
Comments