Advice for Tourists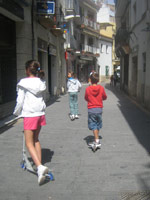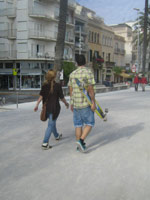 We update this page regularly with useful tips and travel advice for visitors to Sitges, and you should find some handy hints on what to expect, pack, prepare for etc. before you leave home - and how to behave when you get here! We strongly encourage our readers to add their own experiences and wisdom in the comments section below... future travellers will certainly appreciate it!
Petty Crime
Sitges is lucky in that it does not share Barcelona's association with petty crime and pickpockets. Nonetheless, as whenever you're abroad, be a little vigilant as there's always a minority element who may see you, or your belongings, as rich pickings. Don't leave bags unattended, or valuables out in plain view.
Beach Bums
Sitges is a liberal place, even by Spanish standards, and letting it all hang out is par for the course on many of the city's beaches. If you'd rather not see any dangly bits do a bit of research about which beaches are more family orientated and which are preferred by men with an aversion to swimming trunks. If you're here specifically for the dangly bits the same advice applies! Read our Sitges beaches articles for the scoop. And don't forget your sunscreen!
Hotel Booking
Sitges' reputation as one of Europe's best beach resorts is spreading fast and during summer, and for the Carnival and Film Festival, you may find beds are in high demand. It's worth booking hotels as far as in advance as you can, whilst if there's no room at the (Holiday) inn then you could try an apartment rentals company instead.
More tips and advice coming soon... pls. comment below if you know something we don't!
Above: Sitges' fearsome scooter gang

Below: A stroll on the Passeig Maritim
Comments
Sitges is now full of crime and gangs of young lads are attacking people late evening /night as there is no police presence in the town. I have visited Sites for the last 25 years and will not return due to the crime and attacks. I was attacked and knocked to the floor and kicked and punched by a gang of 10 young lads when I was walking on the seafront pathway presumably a gay attack as no money or valuables taken. Just suffered severe facial injuries and two lost teeth. If you are scheduled to go or still feel you will go, try not to be alone when walking back to your hotel as you are more targeted when alone.
Reply
We were robbed while visiting Sitges last week. In broad daylight-between 1-3 in the afternoon, no crowds, a complete professional job, never saw or felt a thing. My husband's wallet was stolen with important credit cards and documents! When we returned to our hotel most of the guests told us about how they too had been robbed in Sitges-all during the day too! Wallets, purses, bikes, etc. This is terrible for the city! We will never return and neither will the people we've met…. We filed a report with the police. Their comment? "Well you are not the first to be robbed and you won't be the last either." But it will be the last time we're robbed in Sitges as we will never go back & we will tell other travelers not to visit either. Such a shame as it is a lovely town.
Reply
Beware of walking around at night/early morning, in the old town of Sitges. I was strolling in Carrier Major in the heart of the old town yesterday (25 August 2014), after a wedding party, when I was attacked by a man working alone. I was forced up against a wall and agressively frisked to have my wallet stolen. Be very careful and avoid these areas when you are alone, and be careful in groups by watching strangers who come too close. I reported the mugging to the police and emailed the local gay Sitges Link group, but nothing has come about. I also did feel threatened on numerous occasions while in gay streets of this town, so this came as a total shock to me, because I avoided the main bustle and went elsewhere. How wrong I was. Now I've left, I don't think I'll be going to that part of Spain ever again.
Reply