The Catalan Language
Fear not Spanish-speakers, your evening classes in Castellano won't go to waste in Sitges, where Spanish is the most widely spoken language in town. However, the politically and culturally sensitive traveller should note that they are in Catalonia, an autonomous region of Spain, with it's own regional dialect - Catalan. Indeed Catalan is the official language of Sitges and the entire province (including Barcelona) and you'll often find street signs, menus and public notifications given in Catalan first, and Spanish second.
If you want to ingratiate yourself with the, often patriotic, locals then learning a few words or phrases in Catalan will certainly go a long way to making new friends - and that's why we've provided this handy guide below. Click on the phrases and you can even hear them out loud and practice your pronunciation. That's modern technology for you!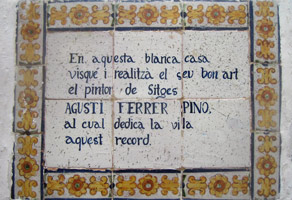 A basic knowledge of Catalan is helpful in getting around Sitges, as most addresses and street signs are written in Catalan not Spanish. Particularly handy to know is that carrer = road (calle in Spanish), plaa = square (plaza in Spanish), passeig = passage (paseo in Spanish) and avinguda = avenue (avenida in Spanish). Entrada and sortida are entrance and exit, no fumeu means no smoking and obert and tancat mean open and closed respectively.
But first a little more in the way of an introduction. Catalan is distinct language from Castellano/Castilian Spanish, not just a separate dialect as many people assume. There are around 9.5 million Catalan speaking folk in the world, 6 million from Catalonia itself, 2.5 million from the province of Valencia (although Valencians consider this 'Valenciano'), whilst residents of the Balearic Islands and Andorra also speak Catalan, by and large. Like Spanish, Catalan descended from Latin, but from the rough vernacular of Roman peasants who settled here, and in fact the language is more similar to Provencal, spoken in the South of France, than it is to Castilian Spanish. Anyone with a grounding in another Latin language should be able to understand a bit of written Catalan, although hearing and speaking of course is another matter. For that you'll have to get over to Sitges and start practicing!
Below you'll find some phrases and beginners' vocabulary to kickstart your linguistic Odyssey.
Comments