Educate Yo'self!
University of Latvia
Established in 1919, the University of Latvia (Latvijas Universitate) has graduated most of Latvia's leaders and important political, scientific, and cultural heroes. With almost 30,000 students, the university is the premier institution of higher education in Riga. Though established on the site of the former Riga Polytechnic, the University of Latvia was the first traditional university in the history of Latvia.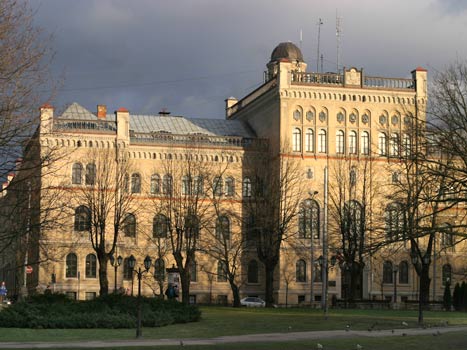 Today, the university consists of 13 faculties (Biology, Chemistry, Physics and Mathematics, Economics and Management, Education and Psychology, Geography and Earth Sciences, History and Philosophy, Law, Medicine, Modern Languages, Philology, Social Sciences, and Theology) as well as the Riga Graduate School of Law, and offers undergraduate, graduate, and doctoral levels of study. In addition to the university's various departments, the University of Latvia offers most of the resources traditionally associated with accredited universities, including several libraries, research facilities, study centers, a language school, and a career centre. The University of Latvia's main library is the biggest university library in Latvia.
In addition to cooperating with 59 universities in 26 countries and participating in the Socrates exchange programme, the University of Latvia offers several programmes in English, including:
Baltic Sea Region Studies Master's Degree Programme
Medical Doctor Higher professional study program
MBA in International Business
MS in Computer Science
MA in European Studies
For more information on application and courses of study, please refer to the university's official website.
Other Universities in Riga
As well as the University of Latvia, Riga has several other institutes of higher education, a few of which offer exchange programmes and instruction in English:
Latvian University of Agriculture: website
Latvian Academy of Medicine: website
Riga Technical University: website
Riga Business School (part of the Riga Technical University): website
Stockholm School of Economics in Riga (all instruction in English): website
Banking Institution of Higher Education: website
Riga Aviation University
Riga Stradina University
Riga Teacher Training and Educational Management Academy
Comments