Lviv Ukraine - An Interactive Guide
Lviv is a city of many names. Austrians will automatically say Lemberg, after the city's time as capital of Habsburg Galicia. And for a Pole, looking back at his country's long held sovereignty, it would be Lwow. In Yiddish dialect the city was often known as Lemberik, and Leopol to the old-fashioned Frenchman. And of course, a scholar of Renaissance history might type Leopolis in a google box. Confused? Well if that's not enough, we could add several more names just to make matters even more perplexing....
What does all this add up to? Well, in a nutshell, the names reflect the city's cosmopolitan past. Travellers will be able to see this immediately when they wander around town. There aren't many cities that can boast three cathedrals, in this case Roman, Greek and Armenian Catholic. Indeed, Lviv's multicultural heritage has won the city a place on the UNESCO World Heritage List.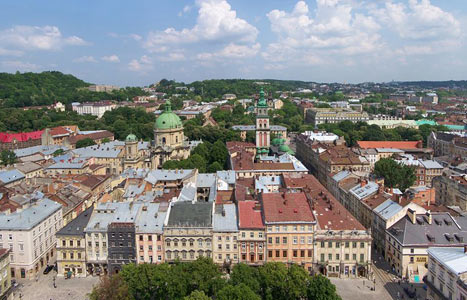 Above: View from the Town Hall Tower, Lviv Ukraine
For much of the twentieth century, Lviv was cut off from the world at large. But today, after the fall of the Iron Curtain and the subsequent Orange Revolution, Lviv is poised for a return to the cosmopolitan traditions that once made it great. Ukraine is itself a country in flux. There is a good chance that Ukraine will join the EU in the near future, and visa regulations have already been radically relaxed in the last couple of years. Visas are no longer required for tourists from - drum roll please - USA, Canada, Japan, EU nations, Switzerland, Liechtenstein, Andorra, Vatican, Iceland, Monaco, Norway, San Marino, Mongolia, Lithuania and the countries of the Commonwealth of Independent States (although not Turkmenistan). Citizens from all the aforementioned countries are free to spend 90 days in Ukraine without a visa.
Here at Lviv Life, we've got stacks of info for travellers to Lviv, and we can also put you on the fast track to getting to grips with Kiev, the capital of Ukraine.
In the meantime, why not have a browse through our travel pages. Or for precise details on the good life, check out our guides on where to eat, sleep and drink in Lviv. We've also got a gallery of photography for artistic souls, as well as themed pages on all kinds of curious local themes, from uncrowned kings to saucy authors. Last but not least, we've got a language survival kit, complete with a Ukrainian genie who will answer any wish that you command (well almost).
All in all, Lviv looks set for an interesting future. The city has already been ear-marked as a venue for the Euro 2012 Football Cup, an event hosted jointly by Ukraine and Poland. Let's hope that Lviv continues to go from strength to strength.
Comments