Getting around London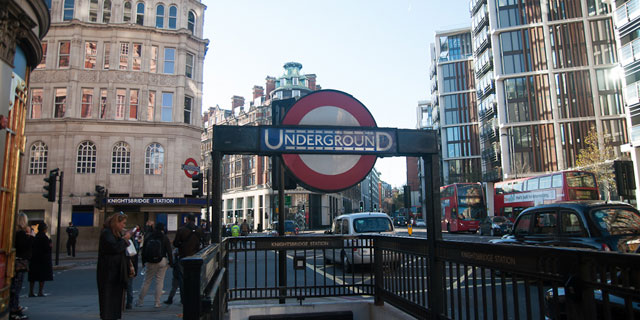 By Public Transport
All public transportation in London falls under the umbrella of Transport for London (TFL), which organizes everything from the Underground to buses across the city. The Underground (Tube) is the most convenient way to get around London, but there are also plenty of buses as well, not to mention trams, river boats, the DLR (Docklands Light Railway), and the Barclays Cycle Hire scheme.
The easiest and cheapest way to use public transportation in London is to purchase an Oyster card, available at any tube station. You must pay a £5 refundable deposit, and can then choose to either travel via pay-as-you-go (by topping up your card with credit) or via a travelcard (day, week, or monthly pass). For relatively short visits to London, the simplest way to travel is via pay-as-you-go – the Oyster card system calculates a daily price cap on all travels dependent on the zones you visit. This means that no matter how much you travel in one day, the price is capped at the equivalent cost of a one-day travelcard. Smart!
When travelling on the tube, you will need to touch your Oyster card on the turnstiles going in and out of the station. When travelling by bus, you only need to touch in when boarding the bus. As for topping up your Oyster card, this can be easily done at any Tube station, or at any shop displaying the TFL logo.
By Taxi
London's famous black cabs are a big part of the city's identity, and it's a fun experience for visitors too. And with seating for up to 5 passengers, it's a great way for families to get around. Drivers are extremely knowledgeable of the city, so you can be sure of getting to your destination in no time. If the cost of a black cab is a little steep for your budget, another option is a minicab. Minicabs are operated by private companies, and while they can't be hailed on the street there are several easy ways to find a local minicab company and order a car, such as the Cabwise service which can be downloaded as a free smartphone app. Minicabs do not operate on a meter, so make sure to agree on a fare before you travel.
By Bicycle
Cycling has become more and more popular in London lately, with many commuters skipping the tube and jumping on two wheels instead. The simplest way to give it a go is by grabbing a bicycle from the many Barclays Cycle Hire stations across the city. But do make sure to stay alert when cycling through the city centre, as roads can be very narrow, and traffic extremely busy. Keep an eye out for pedestrians, buses, cars, and other cyclists. For a calmer route, take your bike to a cycle-friendly park such as Victoria Park, or cycle along picturesque Regent's canal.
By Car
Generally speaking, travelling around London is not a great idea. Most Londoners do not even own cars and like in any big city, traffic can be a nightmare and parking is extremely expensive. On top of it all, anyone driving in central London will need to pay a Congestion Charge. All areas where this charge applies are marked with a sign displaying the letter C. Your best bet is to leave your car at the hotel (or better yet, at home!), and explore London by public transportation - like a local!
Comments