Dancing in Eindhoven, get your groove on!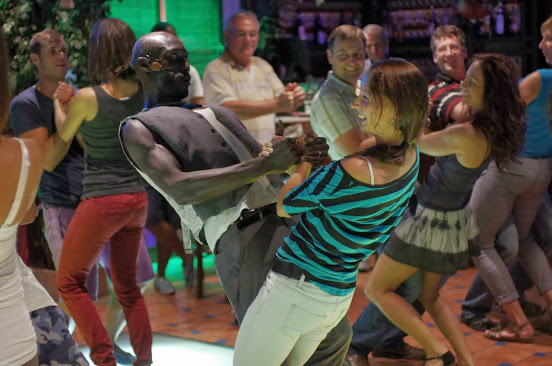 Salsa dancing has been very popular in Eindhoven for years. Eindhoven has a varied offering of dance schools so you can be a pro in no -time! The dance schools give you the chance to learn how to dance Salsa from any level, although some only specialise in giving classes to the more advanced dancers. So it doesn't matter if you have never danced before or if you are an expert, there is always a dance school with expert dance instructors available for you in Eindhoven!
And it's not just Salsa that you can learn, there are also other dance styles. You can learn how to dance Tango at Tipo Tango, Bachata, Kizomba, Merengue or even Reggaeton. Check out the dance schools for more information about classes.
When you have had a class or two and would like to put your dancing skills into practice, you can visit Santiago de Cuba at Stratumseind at the weekend (every weekend from Thursday till Sunday) or visit one of the many Salsa parties in Eindhoven.
There are so many Salsa parties organised in Eindhoven but we will give you a few examples of some really interesting parties;
You can visit Skifit every third Sunday of the month. The party has a different theme every month and the times for this party are perfect for those who have to get up early on a Monday morning! The party begins at 16:00 and ends at 22:00. And you don't even have to leave to have dinner, you can enjoy a nice dinner right there too!
Another great party is Salsa Breeze. This party is on every first Sunday of the month at Aquabest (Beach club Sunrise), which is just outside Eindhoven but the location is brilliant. The interior makes you feel like you are on a sunny holiday location and they even have a beach!
One last party we would like to tell you about is the El Corazon Ardiente Party at -a unique location; the Philips stadium. This party offers you a wide range of different music styles across 6 area's Salsa, Bachata, Kizomba, RnB and even more different types of music!
This is only a taste of the many parties in Eindhoven. Many unique venues (like Dynamo, Het Ketelhuis and Muziekgebouw) regularly organise Salsa parties. So what are you waiting for?! Put on your dancing shoes and get your groove on!
You could find more Salsa and Latin parties in our Events calendar or here.
Salsa Dance schools:
Salsa Connexion
Comments