Experiences with locals in Eindhoven
Whether you're in Eindhoven for just a short amount of time or whether you've moved over here for a longer period, you want to get the best out of it! Are you constantly looking for things to do and things to eat?
Maybe you've discovered the highlights of the city, walked around, visited a museum maybe, but how about experiencing more of the local culture? Here at Local Life we offer you lots of information about where locals in Eindhoven go to eat, drink, shop, party and have fun, but there's more!
At Withlocals, Eindhoven locals offer home dinners, activities and tours that you can join! Or you can offer your own as a host. What things to do are available in the Eindhovenregion? Think of a cycling tour with a picnic included, a typical Dutch dinner in a local's home or a living room concert over dinner, it's all possible! Find more on the Withlocals-website and try it out!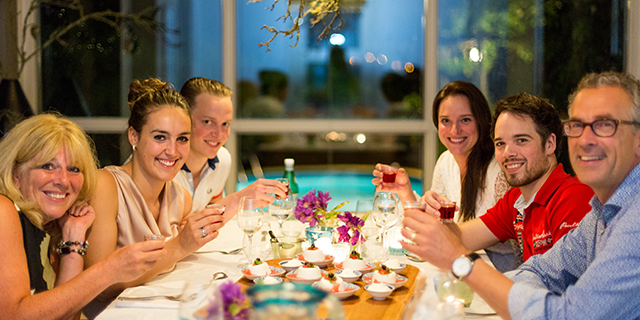 Home dinners
Locals (Dutch as well as non-Dutch who live here) offer to cook for you in their own home. You can join an Indonesian dinner with host Detty, a fusion cuisine meal with host Marion or an exclusive eating experience in an industrial loft with host Peter Paul. You can even choose if you want a private dinner or you want to join a dinner party and meet other guests at your host's place!
Check the possibilities to Eat Withlocals and plan your favourite dinner in your agenda!
Activities
Other people in the city offer special experiences like a yoga walk, cooking class, music making activity or a photowalk. Do you have a special hobby? Be brave and share it with others who are interested! Or are you feeling creative? Sign up for one of the Activities Withlocals in Eindhoven and you're likely to have great time, learn a new skill and meet interesting new people!
Tours
Tours Withlocals is the perfect way for local people to share their knowledge about the city of lights. Join them for a walk or on a bike to get to know more about Eindhoven.
Become a host
After all these great options you maybe have some ideas about what things to do and things to eat you can now book in Eindhoven. Want to join the community? At Withlocals it's easy to become a host. Just add your offer and shart sharing it.
Local Life and Withlocals wish you great fun in discovering more of Eindhoven's hidden gems!
- advertorial -
Comments