Kreuzberg District in Berlin
Much like the city of Berlin itself, Kreuzberg is a district of contrasts. In the east, a punk rock attitude remains where artists rub shoulders with the area's large immigrant population. In the west, gentrification has well and truly taken over, though the area still has plenty of important sights to see including the Jewish Museum and Checkpoint Charlie.
While Kreuzberg is now technically a joined borough with its north-eastern neighbor Friedrichshain, the district has retained its own distinct identity. During the GDR, Kreuzberg was part of West Berlin, divided from Friedrichshain and Mitte by the river Spree and eventually by Berlin Wall as well.
A large portion of that wall remains and is now the world-famous East Side Gallery which runs along the eastern side of the Spree on Muhlenstrasse across from the O2 Arena between Warschauer Strasse (S or U-Bahn Warschauer Str) and Strasse der Parisier Kommune (S-Bahn Ostbanhof).
After a stroll past the East Side Gallery, the best way to begin your visit to Kreuzberg is from the fortress-like Oberbaumbrucke bridge. From here you'll have a stunning view of central Berlin and the TV tower to the north, and the 100-foot tall Molecule Man sculpture, seemingly floating on the Spree to the south. You can also take note of the Watergate club, wrapped in glass and perched perilously on the edge of the river, it waits for nightfall and Berlin's finest techno DJs and most dedicated clubbers to fill its space.
From here, wander westwards along Skalitzer Strasse which runs along the above-ground portion of the U-bahn metro line and turn right on Oranienstrasse. It's worth wandering off on a side-street or two to really dig into east Kreuzberg's immigrant culture (primarily Turkish) as well as its legendary bohemian vibe.
East Kreuzberg's current state was largely shaped by post-World War 2 events, which saw the heavily bombed district rebuilt and its rents strictly regulated. Over the years, east Kreuzberg's cheap housing attracted immigrants and counterculture artists and activists. Of course, a certain level of gentrification is unavoidable but despite rising prices east Kreuzberg seems comfortable exactly where it is - as an alternative mecca, its graffiti-covered streets dotted with record shops and doner kebab stalls in equal measure.
Going along Oranienstrasse, it'll be near the Moritzplatz U-Bahn metro station where the streets start becoming a little plainer, the buildings more modern. In distinct contrast to its neighbors in the east, the two main attractions in western Kreuzberg are shopping and museums. Turn left on Lindenstrasse and make your way south to get to the Jewish Museum, open in 2001, a relatively recent addition to Berlin's cultural landscape. Even further south is the iconic Tempelhof airport. Alternatively, you can head north on Friedrichstrasse and give your credit card a good airing in one of Berlin's most popular shopping destinations. Finally, on the border of Kreuzberg and Mitte, is Checkpoint Charlie.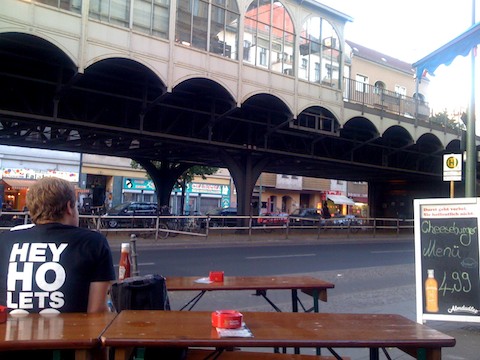 Kreuzberg highlights:
SO36 -Essentially east Kreuzberg, SO36 is the CBGB of Berlin, attracting punk rockers since the 70s (David Bowie and Iggy Pop were just some of the club's famous customers).
Il Casolare Trattoria - Grimmstrasse 30 - The ideal spot to relax on a sunny afternoon, Il Casolare serves up the city's most authentic paper-thin pizza pie on the banks of the Landwehr canal.
Curry 36 - Mehringdamm 36 - You must try Berlin's street food mainstay currywurst (sliced sausage topped with curry sauce) at least once during your stay and Curry 36 is known as one of the city's best.
Jewish Museum - Berlin's Jewish Museum takes a all-encompassing look at the history and culture of German Jews in the incredible Daniel Libeskind-designed building.
Tempelhof Airport - It may no longer be in service, but Tempelhof is still open to visitors when it's hosting festivals and exhibitions.
Checkpoint Charlie - At the intersection of Friedrichstrasse with Zimmerstrasse is where crowds block traffic snapping shots of Checkpoint Charlie, the gate between the American sector of West Berlin and East Berlin during the Cold War. The nearby House of Checkpoint Charlie museum is not bad either.
Comments