Culture...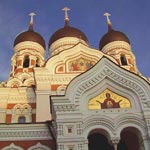 Looking for culture? Well you've come to the right place! Tallinn may be a tiny fraction of the size of London, Paris, Moscow and Berlin (only 430,000 people to be precise!), but it still boasts a surprisingly beefy cultural programme for tourists and locals alike. From splendid medieval landmarks and fascinating museums to cutting-edge theatre and modern film festivals, you are guaranteed to find something you like in Tallinn. The city even has its very own Opera House for God's sake - eat your heart out Sydney!
If you would like a fuller picture on Tallinn's culture then either use the filters below, or use our directory, to hunt down the individual treasures that you're after.
Looking for something specific?
See on Map
Top rated culture in Tallinn