Tallinn Nightlife
It may be able to boast a UNESCO-listed Old Town, a vibrant performance arts scene, and one of the fastest-growing economies in the world, but when all is said and done Tallinn remains famous, above all, for its nightlife. Despite its paltry population of less than half a million heads, this diminutive jewel of the Baltics has still managed to claim the enviable title of the party capital of North Europe. And with that kind of reputation for hedonism, it's no wonder that Tallinn continues to draw good time people to its icy shores.
Tourists flock in from all across Europe - where city-breakers on wild weekends and stag groups take advantage of cheap flights - and from Finland, from where hundreds of thousands arrive by boat to take home cheap booze and, if possible, an Estonian wife!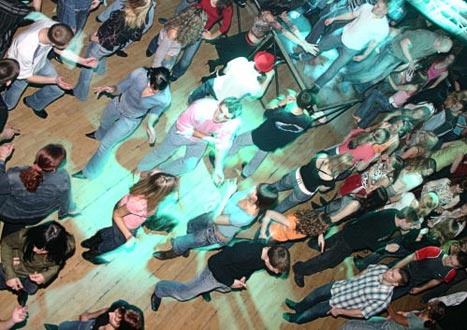 The good news is that Tallinn has plenty of pubs and bars in which to accommodate her many guests, and most of them are conveniently located in the Old Town, all within stumbling distance of one another. Many directly cater for the foreign hordes and if you're the sort of person who's never happier than when you've got one hand on a pint and another on a burger you'll find a score of Irish and English-style boozers to live it up in. Molly Malone's on the Town Hall square surely has the best location of them all, although the same owners boast the ever popular Nimega and Nimeta Bars (The bar with and without a name respectively), O'Malleys and Club Havana, all of which provide ample opportunities for nights of revelry. Another, slightly classier hang-out is the oldest pub in town Hell Hunt, where you can get a great club sandwich or a classic cheeseburger and a width variety of beer - plus some credible music.
If however you haven't come all the way to Tallinn to mix with the ex-pat crowd or drunken stag groups, you might want to try trawling the city's excellent lounge bar scene. Over the last few years trendy nightspots in the London mould have characterised Tallinn's nightlife, and visitors have a few great options to choose from if they want to see and be seen. CatHouse is, by now, one of the standards. Staple fave Butterfly Lounge provides excellent competition of cocktails mixing. Clazz, is well worth a look too.
Finally a couple of good alternative bars exist for those who prefer a less formulaic night out. The excellent Cafe Rock is an essential meeting point for artists, whereas the amusing Depeche Mode bar is, well, amusing.
Once it gets time to head to a club (which for most Tallinners is sometime after midnight) your options aren't quite as varied, although there's still a few places well worth checking out. Club Hollywood is the obvious place to head if you're a sucker for the winning formula of cheesy tunes, friendly atmosphere and drunk girls, offering an even wilder alternative is Venus Club competing for the same market. For those looking for at least a little decorum to their nightlife then Vabank, a one time members only club, is a pretty reliable bet (although there's no guarantee the music will be much more sophisticated!). If you are the discerning clubber type then we suggest you put your best glad-rags on and head to Prive, where you're likely to find quality turntablists doing their thing. Vibe, the organisation which set up Prive, made its name by throwing raucous warehouse raves - so keep your eyes out for posters, or check their website.
For a blow by blow account of Tallinn's bars, cafes, pubs and clubs we suggest you check out our bars and clubs directory, where you'll find a more detailed description of some of the city's best venues.
One last thing to bear in mind though when exploring Tallinn's nightlife is that it only really gets going at the weekends, so party-goers hoping to find some action in the week, in particular Sundays to Tuesdays, may be disappointed.
Comments
im going to tallinn for a week in november, just wondering if any locals can let me know if the bars/clubs will be open and if they will be worth going to, thanks
Reply
To you guys/girls: Nightlife is only Fri-Sat, littel less on Wen-Thu.. other days everything is closed.Popular clubs are Prive,Hollywood and Venus Club. Main Bar/pub street is Suur-karja(in old town) lots of people there in weekends(OldTown is full on bars&pubs and smaller clubs).. if you use a taxi CHECK the price list on the windows (yello sticker) normal price for taxi is 0,45-0.90€ per KM, and max 3.50 for starting fee. :)
Reply
Me and the girls like to go out 2night. Wat is a nice place to go on a monday? Is there a good club open? Please tell us soon. Thanks
Reply
I didn't mean to mark it 10/1o, though for a cultural weekend break I would give it an 8/10, but that's only cos the Festival of Old Town Days was on. It was very quiet otherwise.
Reply
I don't know where everyone else went but we went for a hen do on 29th May 2011 and everywhere was shut!! The only place we found was the Texa honky tonk bar to eat and Molly Malones for a drink. Disappointing for our poor hen!!!
Reply
It seemed to be better here as far as clubs are concerned than Riga, where I went last year. Less lager louts. Or maybe they've just run out of money? People here were friendlier too.
Reply
HEAD FOR CAFE VS,,,PERRRRRFECT
Reply
Old town in Tallinn is the best place i've been in a long time and the ladies are the most gorgeous ever ever ever.
Reply
It's not such a big town, so don't expect too much in the way of big clubs - but the smaller bars and pubs are cool and the girls - wow!
Reply
I met Oliver French (Dave) on a night out with the bowls team in Lyme Regis; Craaazy ! He not only went and threw some shapes that drove the lovely ladies mad, but went on the decks after and (working 3 turntables) hit the club with his own inimitable Slovakian Prog Rock with a jungalist baseline, reworked with the voice of the guy who did the mistermen shouting swear words, everyone just flipped out and I dare say I know why, what a card !
Reply
Hey! I met a guy called Oliver French who is planning to visit Tallinn, he is a really nice bloke! He wears bras on his head, he is so funny! I think I might go and visit that guy soon! He is really cool and a really good great catch for any of you Estonian ladies!
Reply
i liked talinn for its amazing titty bars and europes largest concrete residential blocks
Reply
the tallinn nightlife certainly takes some beating. Think they are a bit fed up of stags, but behave yourself and you should get a friendly reception with the local clubbers!
Reply
Good God! This city rocks! Excellent advice on this page - cheers! Liam
Reply