Educate Yo'self!
University of Latvia
Established in 1919, the University of Latvia (Latvijas Universitate) has graduated most of Latvia's leaders and important political, scientific, and cultural heroes. With almost 30,000 students, the university is the premier institution of higher education in Riga. Though established on the site of the former Riga Polytechnic, the University of Latvia was the first traditional university in the history of Latvia.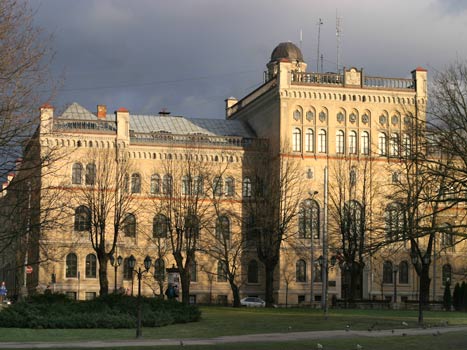 Today, the university consists of 13 faculties (Biology, Chemistry, Physics and Mathematics, Economics and Management, Education and Psychology, Geography and Earth Sciences, History and Philosophy, Law, Medicine, Modern Languages, Philology, Social Sciences, and Theology) as well as the Riga Graduate School of Law, and offers undergraduate, graduate, and doctoral levels of study. In addition to the university's various departments, the University of Latvia offers most of the resources traditionally associated with accredited universities, including several libraries, research facilities, study centers, a language school, and a career centre. The University of Latvia's main library is the biggest university library in Latvia.
In addition to cooperating with 59 universities in 26 countries and participating in the Socrates exchange programme, the University of Latvia offers several programmes in English, including:
Baltic Sea Region Studies Master's Degree Programme
Medical Doctor Higher professional study program
MBA in International Business
MS in Computer Science
MA in European Studies
For more information on application and courses of study, please refer to the university's official website.
Other Universities in Riga
As well as the University of Latvia, Riga has several other institutes of higher education, a few of which offer exchange programmes and instruction in English:
Latvian University of Agriculture: website
Latvian Academy of Medicine: website
Riga Technical University: website
Riga Business School (part of the Riga Technical University): website
Stockholm School of Economics in Riga (all instruction in English): website
Banking Institution of Higher Education: website
Riga Aviation University
Riga Stradina University
Riga Teacher Training and Educational Management Academy
Comments
Can u give me information of university in Latvia(without IELTS) about grands and how to pass what kind of things need
Reply
The Latvians are stuck up pieces of jealous bitches that hate the foreigners despite it being us that pretty much financially support their depressing excuse of a country. The hierarchy here is ridicilous; like someone already said before me, if they don't like you, you're fucked. I could go on and on about the negatives of both Riga Stadins University, which I'm currently attending, and Latvia. Pretty much everything except for the low living costs and the picturesque scenery of the old town at night time sucks dick.
Reply
Does anybody know about Newport University in Riga? Is it accredted by Latvian ministry of education?Thanks for answer
Reply
whats up people? who can tell about study in latvia??
Reply
Its me kamal subedi from Nepal and i want to study in Latvia as course of business management. Hope that replay Whats are the Requirement of student of bussiness management? And also how much we should pay? About accomadation? ............?
Reply
I like to study in latvia this academic year i dont know how i can get admission in any of your universities.thanks and waiting to hear from you
Reply
Guys, These are only good universities if you are white and look rich. The teachers can do anything to you unchecked and if they don't like you can really screw you and they do. Go to Norway or Sweden we (browns) are just here because we have to be but its like a prison time where we literally pay for our laziness in high school.
Reply
I love Riga,that's why I'd like to study there in next year,after matura exam.Is here anyone ,who knows how to get any informations about "Studying in Riga". In this term I mean ,which subjects should I take in "MATURA" and so on. Thanks ;) The best regards !
Reply
gorgeous campus! the students seemed nice too, i bet it would be great to study at the university of Latvia!
Reply