Smokin' the Grass...
...and we don't mean the grass at Palace Gardens! Prague has been called "the Amsterdam of the east" for good reason; its liberal laws and liberal policies mean that the city has earned a reputation of being pot-friendly, and an estimated 400,000 marijuana users are largely ignored by the authorities and tolerated by most everyone - not that we recommend that sort of thing...
However, if you're inclined to toke the chronic, we recommend, err, we heard that it's best not to buy it off the street, but rather ask around, particularly at more chill bars or at concerts. If you get a whiff of some wacky tobacky while you're at a concert or bar, politely ask the holder of said hippie lettuce if he knows where to buy, or perhaps if he'll sell you some of his. Some bars even have their own dealers who hang around, so courteously asking the barman may work as well. Whatever you do, never buy from a dealer who walks up to you in the street, or most often the train station. Next to cabbies ripping off tourists, so-called "dealers" are the most notorious for taking your green with no green in return, often giving you a half-second peek at something that looks like ganja but is more likely oregano, and running off with your cash after mumbling something about seeing a cop. Remember, if it looks and feels shady, it probably is.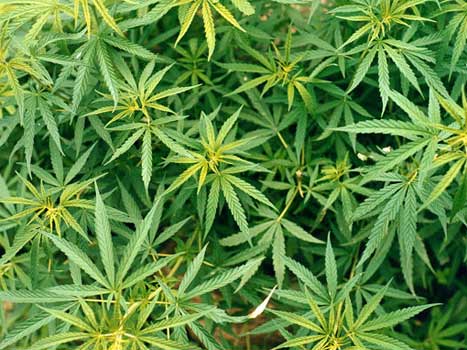 So is it legal? Well, here are the facts:
Section 187a (1) A person who keeps, without authorization, a narcotic or psychotropic substance or a poison in a quantity greater than small shall be punished by imprisonment for a term of up to two years or by a pecuniary penalty.
Technically, smoking and possessing marijuana is illegal in Prague and the Czech Republic, though the marijuana legalization movement in the city is highly active. Under the current law on drugs, people can possess "not more than a small amount" of marijuana, though what constitutes a "small amount" is not specified, but it's generally understood as less than 4 grams. If caught, the fine is a slap on the hand costing you 1000 kc, and you might even get to keep the weed if you're lucky. The 1999 law is under pressure to be changed, particularly to separate marijuana from "hard" drugs, both in definition and punishment.
But what's the reality?
In practice, small amounts for personal use are generally allowed or might land you a minor fine at worst. In fact, even if a cop happens to walk into a bar as you're lighting up, just discreetly put it out and most likely they won't even say anything to you. And, most pubs and non-tourist bars outside of the center allow you to smoke inside, though it's polite to ask the barman first. We've heard rumours of U Sudu being weed-friendly, for example. Don't try lighting some skunk at a dance club though, unless you want Jiri the bouncer's fists to send you on a trip stronger than any chronic.
What about quality and price?
At the moment, the going rate for herb is about 250 kc per gram, though tourists tend to be charged double. Even at the double rate, it's more affordable than Amsterdam or the usual prices in the U.S. or UK. As far as quality, it's definitely more kind bud than shwag - usually straight from the cannabis capital itself, Amsterdam, and packing a punch. Unlike Americans, Europeans mix their skunk with tobacco when making joints, so don't try to smoke it straight unless you'd like to see pink elephants doing the tango around Wenceslas Square. If hash is more your bag than bud, it can be obtained from reputable dealers, though it's more rare and might be more pricey than plain old reefer.
Basically, if you're planning to get high in Prague, be kind and respectful to authorities and owners of establishments, and the bud will be kind to you. If you're not causing a problem, no one will mind if you bring your friend Mary Jane to a concert or park.
Editors Note:
As you can see, local dealers have taken over our comment section in order to advertise their wares. We take no responsibility over this and are in no way affiliated, but we aren't total squares either so we're letting all you humans comment and live your lives, make decisions as you please.
HOWEVER, as you can also see many of them are whiny and repetetive, throwing school yard accusations at each other of being 'SCAMMERS' and "Wencelas Square dudes' etc. We don't know who is and who isn't, maybe they are all legitimate, maybe they are all frauds - no idea. All we know is that it's annoying, petty and makes it impossible for anyone to sort the wheat from the chaff. Be aware that a lot of the comments posted by 'customers' saying things like "thanks man, I met stupidguy@weedman.com and he gave me the best weed ever, so glad i didn't pay WU with those scammers' or even more legitimate sounding reviews... surprise, surprise, it's the dealers posting those too. I'm sure there are some real reviews in there but who the hell knows which ones they are.
So, just be careful when contacting anybody from here or the internet in general. Never send payments over Western Union or any other way to anyone in advance (c'mon, that's obvious), only pay for any products when they are in your hands and pay attention to the energy of people, use your intuition to get the feeling of folks so you don't give someone a hundred bucks for a bag of rat fur sprayed with chemicals.
In the eternal words of Steppenwolf - Goddamn the pusher man.
Note to the pushers - BE COOL.
Don't spam. None of your posts are ever approved on any pages other than this.
One post saying the same thing is enough. Stop fighting like cats in a bag, it makes you all look bad.
Stop posting fake reviews of yourself from fake customers saying yours is great or someone else scammed you.
You're not fooling anyone and it just means i might delete real comments from real customers in the mix up. It hurts you in the end.
You have a responsibility to spread good energy with your products as well as your attitude to each other.
Take some advice and a toke from the weed you sell and make love not war.