Eating Out in Amsterdam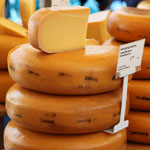 It shouldn't come as a surprise that an urban hub like Amsterdam is home to nearly any sort of cuisine you could fathom. From the strange neon lights of a FEMO fast food vending machine to the candlelight of a romantic Italian restaurant, Amsterdam has got it all. International cuisine is fully catered for in the city, but Dutch cooking has also made impressive strides in recent years, embracing the local culinary heritage with zeal and creativity. Have a look through our ever-growing guide to Amsterdam eating for an idea of where you next meal should be.
Looking for something specific?
See on Map
Top rated restaurants in Amsterdam