Przybij Piątaka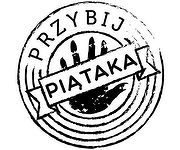 Phone

+48 575 312 555

Website

Address

ul. Jana Ewangelisty Purkyniego 1 & ul. Kazimierza Wielkiego 49
Local Life Wroclaw is about to select candidates for Best Places awards, dedicated to rewarding and encouraging excellence in products, service and ideas. You are helping us to make the best choice.


Przybij Piątaka has 0 votes. Click here to see the results.


You can vote once a day for your favourite place.
Editor's review
Przybij Piątaka (High Five in English!) is a chain of pubs with a musical theme, located in central Wroclaw. At the moment there are two pubs, one on Jana Ewangelisty Purkyniego 1 and the other at Kazimierza Wielkiego 49. The pubs are open til 3 am from Sunday to Thursday and until 4 am on Fridays and Saturdays. Przybij Piątaka are laid-back pubs where everyone can feel welcome and as if they were at home or with a great friend. The places are full of positive energy, and also great value too - most things cost just 5 PLN!
Editor
Editor & Wroclaw Local
Reviews