International Comedy Explosion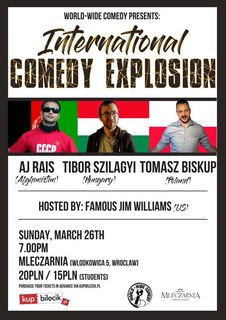 Three guys. Three countries. One explosive night of comedy!
First up, Tibor Szilagyi from Budapest, has been living in Poland for 7 years. He is a member of Kraków Comedy and has performed regulary over the last year. He likes trains and dislikes hungry Hungarian jokes.
Next is AJ Rais. He was born in Kabul, Afghanistan but mostly lives in Prague. He currently studies Political Science and his skin color is NICE AND BROWN.
Finally, we are proud to have Tomek Biskup, a comedian with many years of experience on many diferent stages. He has done stand-up, improv, sketch comedy and the shopping. Recently Biskup started performing in English, so you can come and laugh at his jokes or his accent.
The evening will be hosted by Famous Jim Williams, who is no stranger to trains, politics or shopping.
Date: Sunday, March 26
Time: 7.00PM
Place: Mleczarnia (Włodkowica 5, Wrocław)
Tickets: 20Zł / 15Zł (with Student ID)
Tickets can be purchased in advance at the bar or online via kupbilecik.