World Wide Comedy Showcase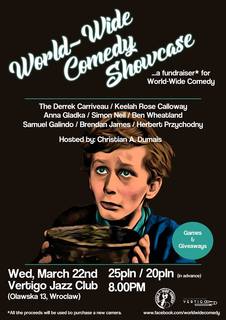 World Wide Comedy presents - World Wide Comedy! In a fundraiser for World Wide Comedy (we really, really need a new camera)! This is a stand-up showcase event, showing off some the brightest stars and freshest faces in Wroclaw's comedy scene in English.
Hosted by Christian A. Dumais, and featuring the talents of The Derrek Carriveau, Herbert Przychodny, Sam Galindo, Keelah Rose Calloway, Brendan James, Simon Neil, Anna Gladka and Ben Wheatland (making his main stage debut), the night promises to be a memorable one.
There will also be a raffle, some games and some prizes, so bring your energy, your enthusiasm and your cash. We really want something that Famous Jim hasn't made homemade...movies with.
22 March at 20:00–23:00
Vertigo Jazz Club & Restaurant
Oławska 13, 53-125 Wroclaw