World-Wide Comedy Open-Mic Night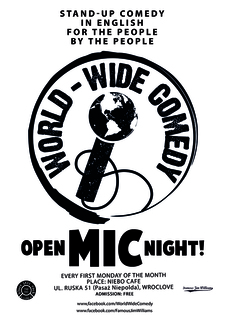 It's comedy FOR the people BY the people.
Whether you're an Expat, Erasmus student, English teacher, English student, English-speaking Polish person, All performers get 5 minutes on stage PLUS a free beer for being brave enough to stand up and tell jokes to a room full of strangers.
Admission is FREE and you're guaranteed an entertaining evening filled with a wide range of comics from professionals trying out new material to first timers.
If you're interested in performing, send a message to us via Facebook or write us your name and where you're from to open-mic@famousjimwilliams.com
Date: Monday, November 2nd
Time: 8pm
Place: Niebo Cafe (Ruska 51 (Pasaż Niepolda), Wroclaw
Tickets: Free admission