Famous Jim Williams Presents: The May Mother's Day May Day Memorial Mother's Day Middle of the Month... Show!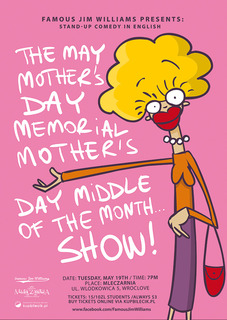 Famous Jim Williams and Friends are back in Mleczarnia for May and there are just so many holidays in the month they weren't sure which one to celebrate, so... They're celebrating them ALL!
Featuring:
Derrek Carriveau​
Peadar de Burca​
Jim Williams​
... as well as a special guest or two just to keep things... Mysterious.
Date: TUESDAY, May 19th
Time: 7pm
Place: Mleczarnia (Ul. Włodkowice 5)
TIME: 7:00 pm/19.00
TICKETS: 15zł, 10zł with student ID – ALWAYS $3!
(Tickets can be purchased in advance at Mleczarnia or online via kupbilecik.pl)