Stand-Up Comedy in English - Benny Boot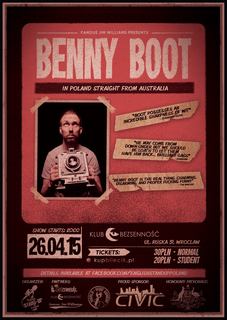 It's a new chapter in the English Stand Up Comedy scene in Poland! Together with the renowned British agency GetComedy and his friends at English Stand Up Poland, Famous Jim Williams is importing a professional standup comedian from Australia to perform here in Wrocław.
Australian comic Benny Boot has been performing comedy in the UK for 10 years. He is seen as one of the finest and most innovative joke writers in the business.
Benny was a finalist in NBC's Last Comic Standing and was invited to the Vancouver Comedy Festival in 2005. He appeared on Dave's One Night Stand (Dave) and has since been a regular headliner across the UK.
Boot delivers his jokes in a unique style on variety of strange topics. His engaging persona & material keeps the laughter rolling through the entire show and is guaranteed to bring any audience undone.
Since Boot debuted his first solo show at 2011's Edinburgh Fringe, he has continued to sell out his Edinburgh Fringe runs, adding extra shows to satisfy demand. His unique style receives a great response from audiences, critics and comics alike. He stormed his first year at Altitude Comedy Festival in 2013 – standing out on a line up with top acts such as Tim Minchin, Jimmy Carr and Frankie Boyle as the act that got everyone buzzing.
Benny is a regular face on the UK live circuit and global circuit having played, Estonia, Finland, France, Switzerland, Germany, Austria, Norway, The Seychelles and Japan. He has a strong following through prolific social media interest as well as sheer talent and brings a crowd wherever he performs.
The show will be hosted by Famous Jim Williams and will also feature local American comedian Derrek Carriveau as well as Julian Szumowski from English Stand-Up Poland.
We're also extremely happy to announce that the Australian Embassy has provided Honorary Patronage for the event.
Special Date: Sunday, April 26th
Special Time: 8pm
Tickets: Tickets can be purchased in advance online via kupbilecik.pl or at the door for 30zl (20zł for students with ID).